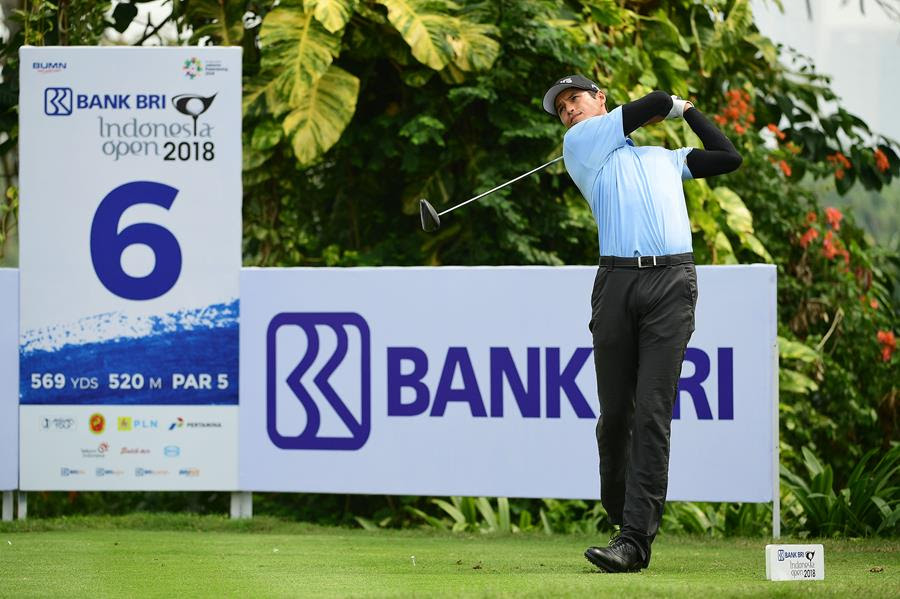 Johannes Veerman of the United States returned to familiar grounds as he carded a six-under-par 66 to share the first-round lead at the US$500,000 Bank BRI Indonesia Open on Thursday.
The 26-year-old Veerman, who started his round on the 10th tee box, swung into high gear after shooting three consecutive birdies from holes 16 to 18. The only blemish on his scorecard was a bogey on the par-three fifth hole of the Pondok Indah Golf Course.
Veerman credited his excellent round to his intimate knowledge of the golf course as well as the calming effect that his wife, who is caddying for him this week, has on him. Australia's Matthew Millar, who sunk four consecutive birdies from holes four to seven, is also in tied-first.
Paul Peterson of the United States maintained his good form at the Indonesia Open as he signed for a 67 to finish one shot behind the leaders. He ended the day in tied-third with compatriots Kurt Kitayama and Dodge Kemmer, Indians Udayan Mane and Khalin Joshi, and South Africa's Justin Harding.
2018 Asian Tour Qualifying School winner Seungtaek Lee sits in tied-ninth along with nine other golfers. The list includes Liu Yanwei of China, Natipong Srithong of Thailand and Jbe Kruger of South Africa.
Defending champion Panuphol Pittayarat carded a 70 to finish in tied-32nd.
The Indonesia Open received a title sponsorship from Bank BRI last week and has its prize money increased from US$300,000 in 2017 to US$500,000 this year. The co-sponsors for the Bank BRI Indonesia Open are PLN, PERTAMINA, TELKOM Indonesia, Batik Air, WIKA, BRILife, BRIAgro, BRISyariah and BRINS.
Who said what?
Johannes Veerman (Usa) – First round 66 (-6)
It was a morning round, so the conditions were perfect and the wind was not blowing. My goal for the day was to be patient because with the way the course conditions were, everyone is going to make birdies. So, you'll have to stay patient. The greens are fast, so you don't want to get too aggressive and be in the rough for your second shot.
I birdied 16, 17 and 18 and all of a sudden, I made the turn at four-under-par. When it looked like I'm going to shoot one or two-under-par, I shot a four, so I thought, whoa, let's stay patient and see where this will lead us.
I played a lot of good golf here (at Pondok Indah Golf Course). I told myself to remember the good shots that I've hit as well as the good vibes from playing on the course.
Having my wife on my bag really helps me in my game. She's a professional athlete as well and she helps me stay competitive on the golf. Mentally, she reminds me not to get too frustrated or too negative and be focused.
Matthew Millar (Aus) – First round 66 (-6)
I started on the 10th, where I hit a poor second shot. I came up short in the bunker and ended up with a bogey start. I birdied the next hole but bogeyed the par-five 14th. I hit a good one on 17th and sunk a birdie there.
I felt that I was doing OK at that stage, then I made the turn and hit it to two feet on the first, six feet on the second, 10 feet on the fourth, 15 feet on the fifth, about seven on the sixth and about eight feet on the seventh. After I made that one, I thought, wow, I could be in the 20s on this side. It was a really nice nine holes of golf. I'm very happy with my score.
I was on the fairways the whole day, so that gave me chances to hit good shots. All in all, it was a combination effort; my driving, and everything was decent.
Paul Peterson (Usa) – First round 67 (-5)
My game felt solid. I have been feeling good coming off last week, when I played 72 holes but couldn't just get over the line. I felt like I had a good day off on Monday and I really like this course. It's in great shape and it sets up well for me. The number of fairways and greens I hit is going to be really critical this week. I've been able to roll in a few putts and that felt pretty good as well.
I had one bad yardage on 14, where I hit one over the water and beyond the green but I felt that based on the number I had and the club I should be hitting for that, it shouldn't have gone as far as it did. Apart from that, I felt that I had a flawless round.
I'm in the right place mentally. I'm not too thrown off by my bad holes and I am able to focus on my next shot, which is always good. This is one of the most important things when it comes to playing good golf. I feel that I'm in the present at the moment. Hitting shots and not get worried about what might happen or what has already happened.
I learned from the experience last week; being in the lead and knowing every single shot count. Hopefully, I can take some of those lessons into this week. I played 21-under-par over four rounds, probably the lowest in my professional career, so you can't be too upset with that.
Udayan Mane (Ind) – First round 67 (-5)
The great thing about today was that I was bogey-free. That was a big thing for me. Not only that, I drove really well. I hit about 10 fairways and if I didn't hit the fairway, my ball was in the first cut. Hitting approach shots and predicting what the greens would do became a lot simpler. I hit some really good putts that caught the lip and didn't go in, but I'll take an opening five-under-par any time.
This is my second time playing on this course. I played well last year but I hope to better my result this year. I'm still new on the Asian Tour. A lot of bad scores were from the fact that I am intimidated by the field and I wasn't sure about myself. Whereas back in India on the PGTI, I won six times over three years. I have to carry that mindset into these tournaments. It's a gradual process and it is going to get better.
Khalin Joshi (Ind) – First round 67 (-5)
Finally, things are working out for me. I'm getting used to the speed today. After last week, I had to adjust because the greens are faster here. I left a few putts on the line and on the hole. Overall, I'm pretty happy with my game. I holed some good putts and had a par save. I made bogey on five, where I hit a poor shot. But, five-under-par to start is pretty good.
The wind picked up in the afternoon, during my back nine at least. It's not as calm as the morning. You're always in between clubs because of the wind. The key is to hit the fairways. The lines on the greens are hard to read as well. I'm going to work on hitting the ball better off the tee.
The pitch marks on the greens can affect the scoring as well. On some holes, there were five pitch marks on my line. The greens also got firmer towards the end of the round. You have to cater for three to five yards for the roll. The key is still to keep the ball on the fairways.
Jbe Kruger (Rsa) – First round 68 (-4)
I started well but, in the end, I lost it a little bit at the end there. I would say I'm playing about 50 to 60 per cent compared to what I should be performing at. It is 100 per cent better than last week, but still below average on my part.
I hit about 80 per cent of the fairways. At the second hole where I missed the fairway, I hit the ball 30m using a full swing, so that was how bad the rough was today. You need to hit the fairways on this golf course.
My whole front nine stood out for me. I hit many good shots which I haven't been able to hit recently. I'm slowly rediscovery my game.
Seungtaek Lee (Kor) – First round 68 (-4)
My ball striking was very good today and I managed to read the greens quite accurately today. I used a three-wood the entire round as it is very important to keep the ball on the fairway on this golf course. In Korea, the courses have a lot of OBs (out-of-bounds), but not so much here. So with that, I drove the ball with a lot more confidence.
Natipong Srithong (Tha) – First round 68 (-4)
The greens are really fast this week. I three-putted once today, which led to the only bogey of my round. The key to a good score this week is definitely putting and good wedge play. It has been pretty smooth for me today, as I hit the ball onto fairways and greens.
Liu Yanwei (Chn) – First round 68 (-4)
I played solidly all around. The greens here are fantastic. I drove it pretty well today. The rough has grown longer so it's important to keep it on the fairways so that you can control the spin. I was in the rough three or four times in the round, but my lies are pretty decent. I hit it one close at hole three, where I birdied. The rest are putts around 10 feet. The putts are rolling fantastically on the greens and it was good that I was able to sink a few of them.