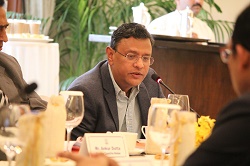 NEW DELHI: The AIFF Youth Cup is a novel concept as it's the first time that an International Youth Tournament is being hosted in India. The Tournament which features the U-16 National Teams of USA, Korea Republic, Tanzania, Malaysia besides hosts India kicks-off in Goa on May 15. In a freewheeling interview with www.the-aiff.com, All India Football Federation General Secretary Kushal Das spoke at length about its benefits, the preparation for the U-17 World Cup Team, the AIFF scouting system and much more. EXCERPTS:
What is the purpose of the AIFF Youth Cup?

It is essential to evaluate the progress made by the U-16 Team which is preparing for the 2017 FIFA U-17 World Cup (to be hosted in India in 2017) and to understand where we need to improve further. While the All India Football Federation has a detailed plan for exposures to various Countries, it is such tournaments can give us a good indication of the progress.

Are there plans to make it an annual event?

It's too early to commit whether it will be an annual event of not. Based on the response and the benefits of the inaugural edition, we will take a decision on it later.

AIFF has been providing the best of exposure for the U-17 World Cup Team. Please elaborate on the future plans.

As the U-17 World Cup will have representation from all Continents, the idea is to make the U-17 World Cup Team play quality opposition during their exposure Tours. They have already been to Germany, Spain, UAE, South Africa and would be embarking on more exposure Tours to Europe and Brazil.

AIFF is also stressing on a fool proof scouting system. How much confident are you to spot further boys from the Programme?

We have been able to identify a few boys from the scouting system, and the exhibition matches which were played with State Associations and SAI Teams, and also from the U-15 League. The scouted boys are currently on trials. We will continue with this Programme and hope that before the U-17 World Cup commences we would have found the best possible talents to represent the Country.

I would also like to add that the current boys who are at the Academy training under Head Coach Nicolai Adam have all been scouted by the AIFF from various National Competitions and trials since 2013.
By Nilanjan Datta,
AIFF Media Team