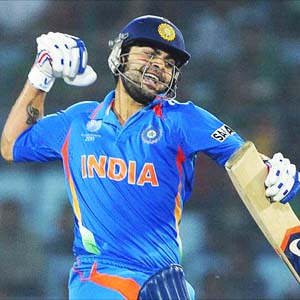 Virat Kohli is one of the best batsmen in the limited overs format and has carved a niche for himself with his extraordinary performance since the time he has announced his arrival in the international cricket. Kohli's record speaks for his domination in limited overs and has already become the fastest Indian to reach 3,000 runs, scoring 13 centuries in process.

And after cementing his position in the shorter format of the game, the Delhi batsman is all more determined to make it big in the bigger formats as his desire can be seen the way he batted to take India out of a precarious situation against New Zealand in the first innings of second Test.
When the youngster made it to the Test team, many questioned if he really has that the temperament and the attitude to play in the longer format of the game, but then Kohli has proved them wrong. He made his willow talk and his innings off late has showed that he not only fit into it properly and bit has it in him to go a distance. It's not his two centuries and three 50s in nine Test matches but the manner he has scored those off late proves the fact that he certainly is a big match player. In on-going Test series against New Zealand, he batted twice and scored a half century followed by a century.

So the question of him replicating his good run in the Tests has been answered as he has proved that he can be one of the batsmen who can go onto becoming a mainstay for India in this format.

Kohli scored his first century against the testing conditions in Australia and in fact was the only Indian batsman who could cross the three figure mark Down Under.

Playing just in his ninth Test, he did not have much experience in the longer format but then first Down Under and then against the Kiwis, he played with authority. The way he has adapted to the Test, does require a special mention. He batted very maturely and did not play any reckless shots or did not get carried away with his good run in the ODIs. He did not throw away his wicket and has shown intent and again played the role of rescuer perfectly in the second Test where he scored a brilliant century to help India out of dire straits.

He did not crumble under pressure and was hitting only the balls that were meant to be hit.. The level of determination and the attitude to prize his wicket has shown that he very well take the baton from his seniors and become one of the bastion of the famed Indian batting line up post VVS Laxman and Rahul Dravid era.
By Samikshan Dutta Choudhury
Indian Sports News Network