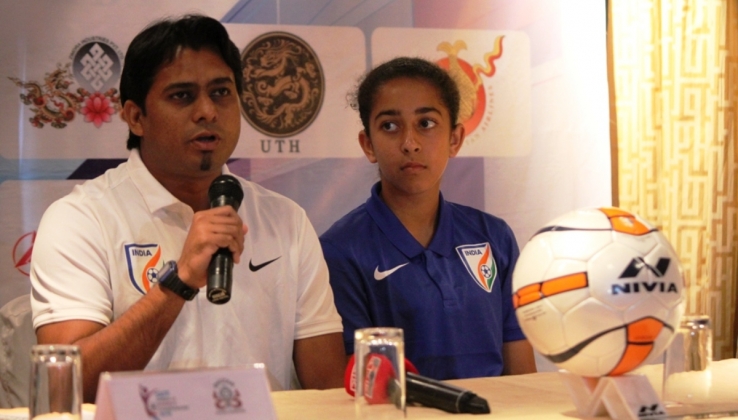 Ahead of India's clash against Sri Lanka in the opening match of the SAFF U-15 Women's Championship, Head Coach Firmin D'Souza did not beat around the bush and stated that the Indian girls will be looking for nothing less than a victory.
Speaking at the Official Pre-Tournament Press Conference, D'Souza said: "We will be looking to start our campaign on a positive note and will look to gather a win and three points. A win will guarantee of a strong position of getting out in the group and progressing into the semi-finals."
The Indian U-15 Women's National Team have been drawn in Group A along with Sri Lanka and hosts Bhutan. "Both Sri Lanka and Bhutan will provide challenges of their own but we are ready. The girls have been gearing hard for the SAFF Championship and are raring to go."
This will be the second edition of the SAFF U-15 Women's Championship, the earlier one held in 2017 in Dhaka where the Indian girls finished runners-up to hosts Bangladesh.
"Most of the countries participating in the SAFF Cup have shown major improvement over the last 2 years especially Bangladesh as they qualified for the AFC Championship last year, won the SAFF Cup last year and this year in April went onto win the Four nation CGI Youth Football tournament," D'Souza stated. "They seem to be a very formidable side and we will have to prepare well to face them."
Sitting on the dais beside D'Souza, player Avika Singh stated: "We are here to play well and we will give our best in every match. We are not taking any team lightly. We believe in ourselves and our abilities to perform as a unit," she added.