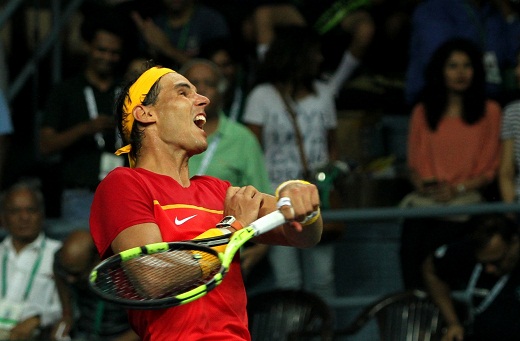 The 'King of Clay' of late had been in the slump of his career. The 29-year-old had failed to win a Grand Slam in the calendar year 2015, resulting in dipping of his rank to no 9. He hasn't been anywhere his best in the recent years after his back and knee injuries.
However, the Spaniard improved his world ranking to 5 owing to the win at Monte Carlo for the 9th time. There is some news for his fans to cheer about because it was a memorable 100th ATP World tour final as he won 7-5, 5-7, 6-0 against 13th ranked Gael Monfils. It was the first title for our Rafa in this calendar year.

This was not just an ordinary win for the Mallorcan, as he had won against Murray in the last four and Stan in the earlier rounds. "It has been a very important weekend," said the Spaniard. It was indeed very important as this win will build confidence in him. He must now focus on his next clay court title with the Barcelona Open. A clay court title at Barcelona would be helpful for Rafa in order to bid for his 10th French open Grand Slam.

There isn't much threat for Rafa apart from Djokovic and Wawrinka. He must stay foccused in order to overcome the psychological block against Djokovic. All he needs to do is to stay positive, train hard and play smart so that he can reclaim the French Open Grand Slam which is to be conducted during the month of May. Will the 'King of Clay' conquer the clay court yet again? Let us wait and watch.