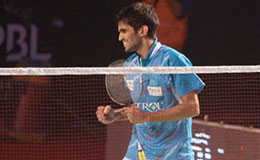 Lucknow: After a heart-breaking loss against Hyderabad Hunters in their first match, the Bengaluru Top Guns landed in Lucknow to take on the Mumbai Rockets for the second game in the double header on Tuesday. Both teams will be looking to bounce back from their losses on Sunday, the Mumbai Rockets losing to the Chennai Smashers.
Showing grit and determination against the Hyderabad Hunters, the Top Guns will have to regroup and work towards taking their games towards the finish line. Coach Arvind Bhat concedes that his team like to keep their fans on the edge of their seats. "2 of our fixtures against Hyderabad went to the deciding set while the other 3 fixtures showed the potential of our players to take opponents close. We need to work harder on converting those close finishes into wins."
While the results may not have gone their way, Bhat is still proud of his players' performances. "The team has performed exceptionally well but unfortunately we fell short. I do not think any of the individual performances are a point of concern at all. It is just a matter of getting the combinations right for the match. The Trump Games did set us back the last time but our performances were definitely up to the mark."
After having enthralled everyone with a powerful 290 kmph serve, Suo Di will look forward to face off against fellow Chinese player Han Li, who has displayed nerves of steel for the Rockets in their previous match. The two women have a long history of training with each other back in their home country of China with Suo Di ranked than Han Li. "It's always interesting to play against someone who you train with and who is also from the same country as you. We know each other's game very well and since this will be the first time that I'm playing her competitively, I am excited to come up against her in this format."
Though Bengaluru will have to be careful about who they pick to play against Guru Sai Dutt - Sameer Verma or Anand Pawar, the match between Kidambi Srikanth and HS Prannoy will definitely be a cracker of a tie with Srikanth holding an edge over his countryman and fellow Gopichand Academy trainee, having beaten him twice including a memorable 3 set win (21-12 12-21 14-21) in the 2015 Syed Modi International Badminton Championships. Srikanth is the higher ranked player at 9 and Prannoy at 20 but both are touted to strong Olympic hopefuls for India in the men's singles category.
On a high after beating Lee Chong Wei last night, India's best badminton player is confident of leading his team to victory, whoever his opponent may be. "This being an Olympic year, there is always sharing of ideas and experience between your fellow competitorswhich happens when you respect and admire each other's game. Having trained with Prannoy on a regular basis, sharing ways to improve your game is definitely helpful when you are looking to compete in the Olympics and it helps that we are all at the same level in terms of competition."
Mumbai Rockets, placed second in the league table, will miss the services of their Mixed Doubles' specialist Kamilla Juhl due to international commitments, Top Guns will look to take advantage of her absence in the doubles category with the services of their Malaysian mavericks Hoon Thien How and Khim Wah Lim who posed a serious threat to the World Number Four duo of Carsten Morgensen and Markis Kido at Mumbai in their first encounter, ending their night with a tight loss (15-13 9-15 14-15) in the men's doubles fixture. "The Malaysian pairing has been superb. They are not only putting up some amazing performances but playing an intelligent game. The fact that they do not get intimidated by any opposition is also a very big advantage for us. Though they produced some amazing shots and drops yesterday, the best is yet to come from them" said Coach Arvind Bhat.
The game-changer for the Top Guns could however be the Mixed Doubles pairing between Ashwini Ponappa and Robert Blair. Ashwini, who stole the show with her partner Joachim Nielsen Fischer against Jwala Gutta and Markis Kido in their first outing, will now partner Robert Blair for the next two matches in the tournament.
Signing off, Coach Arvind Bhat said "The key is to give it all. There are plenty of positives that we took from the last game and with a little more effort I am sure we will emerge as one of the stronger sides in the league. The Top Guns are fit, fine and raring to go."
The Bengaluru Top Guns take on the Mumbai Rockets from 6:30pm onwards in the second game of the double header on Tuesday in Lucknow.