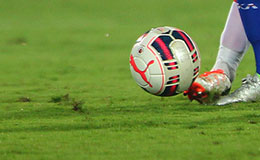 Mumbai: Mumbai City F.C. played a goalless draw with Chennai City in an I-League football encounter at the Cooperage Ground here on Sunday.
Mumbai FC started the match on the front foot, as Chennai City looked marooned in their own half during the opening 10 minutes, goalkeeper Laxmikant Kattimani almost outside his penalty box and dictating play.
Reagan Singh right back for the men in yellow played a dangerous cross, but Anderson Silva couldn't manage to guide the ball on target.
Chennai City dealt with the oncoming waves of Mumbai attacks courtesy their organised defence. However, they did try to make life difficult for Mumbai, looking threatening whenever they got the ball, though the occasion to do so was quite limited. Karan Sawhney had a clear shot on goal from 35 yards,
Chennai box prompting a superb save from Chennai keeper Karanjit Singh. Barely 30 seconds later the same player had a snapshot from the Chennai box, though this time he shot inches wide.
Debarata Roy, the Chennai City left back almost scored a spectacular own goal as his clearance caught Karanjit Singh unawares who was forced to tip it over for a corner.
Mumbai carved a great chance to score at the stroke of half time when Densill Theobald played in Farukh Choudhary with only the keeper to beat, but his effort though on target was saved well by Karanjit.
The second half started like a completely different match, as both the sides sought to kill the match quickly.
Mumbai looked the more intent of the two, as Farukh Choudhary was thwarted spectacularly in front of goal courtesy a well-timed tackle.
Chennai looked content to sit back and absorb all the pressure, to counter attack as and when needed.
Anderson Da Silva managed to get a free-kick in a dangerous area. Steven Dias stepped up to take the free-kick and was once again saved well by Karanjit.
As the clock ticked towards the last 15 minutes, it looked inevitable that someone would score for either team.
Mumbai needed to score to have any hope of staying up. They almost did, as Alex Willian tied up Victorino Fernandes at the near post, who shot wide.
The game increasingly was budging to one of desperation as four minutes of added time was announced.
The game ended with the scores deadlocked at 0-0 and it looks as if it might be too late for Mumbai FC. Chennai City FC look relatively safe and secure in mid-table.