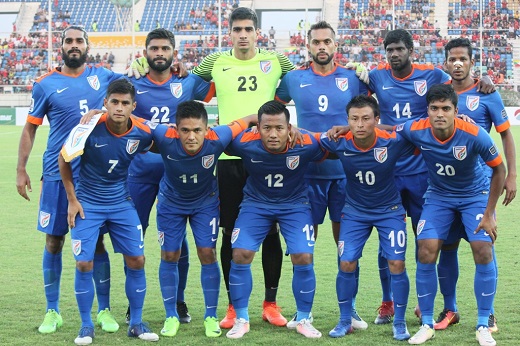 Yangon: Sunil Chhetri, the 'go-to person' of Stephen Constantine proved his worth again as his solitary goal in the 90th minute broke a 64-year jinx of beating Myanmar on the Myanmar soil. Udanta's exquisite pass from inside the box was calmly converted by Sunil 'Captain' Chhetri to start the AFC Asian Cup UAE 2019 qualifier round on a winning note.

India started on a cautious note and opted to hold the ball more than the hosts. 172-ranked Myanmar, on the other hand, started on a high note to open the scoring withing the first 5 minutes but a prudent Anas kept Kyaw Ko Ko at bay.

Sunil Chhetri, who was handed the armband by coach Stephen Constantine today, hit the gas immediately while he cut into from the left flank but the Myanmar defender cleared the danger with utmost precision.


India got back-to-back throws adjacent to the opposition penalty box but Myanmar defenders outnumbered their Indian counterparts to prevent them from drawing the first blood.

Meanwhile, Eugeneson Lyngdoh started to fall back time and again to provide more support to Indian defence-line.

Just after the 15-minute mark, peril loomed large for India while Thein Than Win, Si Thu Aung combined well and built up a blistering attack from the left flank but the cross was cleared by Anas Edathodika, who was making his International debut today.

India started to build up the attack gradually from the midfield and the first categorical chance came for the visitors after the 20-minute mark. Jackichand outran the Myanmar defender and unleashed a long cross from the right flank. Had Robin Singh jumped a second earlier, India could have broken the deadlock by then but eventually, Myanmar goalie grabbed the ball with much composure.

Myanmar came very close to scoring once again but Aung Thu missed to tap it on to an open net. Gurpreet, meanwhile, showed his composure time and again to grab the long crosses to keep his team on the run.

The best chance came for Indian team just at the stroke of the half-hour mark while Robin's through pass was skied by Jackichand Singh from a handshaking distance to leave the Indian dugout shell-shocked.

Sunil Chhetri tried to outrun the right-back but the custodian came in between to leave him frustrated. Eugeneson Lyngdoh tried his luck from 30-yard out but his long-range shot kissed the roof of the net.

At the stroke of the half-time, Sunil was tackled hard inside the penalty box but the referee didn't pay any heed to Indian players' penalty shout.

Seconds before the changeover, Kyaw Ko Ko almost found the back of the net but his grounder went astray.

Myanmar resumed where they left in the first half. They encashed on their fast-paced wingers to hurl on India but the defenders showed their resilience to keep the scorecard unscathed.

In the 70th minute, against the run of the play, Udanta Singh outpaced the Myanmar defender who eventually, was brought down inside the box. Albeit the Indians shout out loud for a what looked like a legitimate penalty, the referee negated it completely.

India changed the gear with 10 minutes left on the clock but the Myanmar defenders kept them at bay. Three minutes to the end of the regulation time, Stephen introduced Halicharan Narzary to instil more agility in the attacking third.

The biggest moment of the match came for India in the last minute of the match when super-sub Udanta Singh, on a brilliantly executed counter-attacking move, broke into from the right wing to unleash an inch-perfect pass to the talismanic striker Sunil Chhetri who rattled the back of the net to silence the 20,000-strong crowd absolutely.

Incidentally, Sunil's 53rd goal on the national colour helped India go at the top of the group A in the AFC Asian Cup UAE 2019 qualifiers third round as Kyrgyzstan are slated to host Macau later tonight.

India: Gurpreet (GK); Pritam, Anas, Sandesh, Narayan; Rowllin (Dhanapal Ganesh– 79'), Eugeneson, Jackichand (Halicharan Narzary – 87'), Sunil (C); Jeje, Robin (Udanta Singh -63')