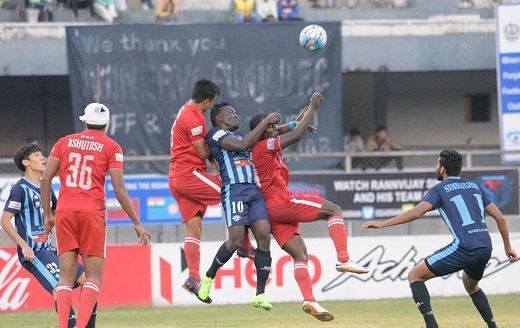 Ludhiana: Minerva Punjab FC played a 2-2 draw against Aizawl FC in the ongoing Hero I-League football match at the Guru Nanak Stadium here on Saturday.
Aizwal's Mahmoud Al-Amna (43rd minute) opened the scoreline and Lalthakima (56th) doubled the lead before the drama unfolded.
Loveday (61st) pulled one after the hour-mark and Kareem Nurain (81st) levelled the scoreline for the hosts.
In the first half of the game, Minerva Punjab had more possession of the ball and Aizawl
FC struggled to capitalise on their opposition follies.
Aizawl, who brought in their Under-22 player Lalthamika in place of Kingsley, broke the deadlock in the first half when Al-Amna slotted home the goal for the visitors.
In the second half, Aizawl FC came up much stronger and more organised with Al-Amna and Alfred Jaryan dictating the play in the attacking third.
Aizawl FC utilised their set piece well from their dead ball specialist Jayesh Rane and found Kamo Bayi, who made no mistake to put the ball past the Minerva Custodian Arnab Das.
Read more: DSK Shivajians thrash Mumbai FC by 5-0
Host Punjab came back into the game in the last quarter after Kareem's set piece was put into the goal by Loveday leaving Albino Gomes frustrated.
Minutes later, Kareem scored a brilliant free-kick to deny the visitors three points.
Following the draw, Aizawl FC have 30 points from 14 matches whereas Minerva Punjab FC have bagged 12 points from equal number of matches.