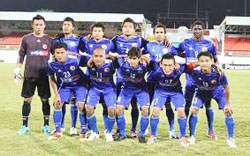 Pune: Mumbai FC defeated Shillong Lajong 2-1 in the 23rd round of the I-League at the Balewadi Sports Complex Stadium here Wednesday.
Man-of-the-Match Gbeneme Friday scored the opening goal for the Khalid Jamil-coached team, which played without three of its main players due to bookings, but it was Ebi Sukore who did the hard work to see Mumbai FC through in a must-win situation.
Starting the game with 17 points from 22 matches, Mumbai FC needed to win to come out of the relegation zone. With just three matches remaining after Wednesday's tie, it was imperative for the Mumbai outfit to earn full points to be able to steer clear of Chirag United Kerala, which lost 0-4 to Churchill Brothers in Goa.

The win helped Mumbai FC move, three points clear of Chirag United, but the Kerala team has played a match less. In the remaining matches, Mumbai FC has fixtures against all bottom-placed team -- Hindustan Aeronautics Limited, Pailan Arrows and Chirag -- something that Jamil must be wishing as silver line to look for and save team from relegation.

Shillong Lajong began the match in high spirits as their supporters outnumbered those of Mumbai FC, who were hosting the tie.

Eugenson Lyngdoh and Lalthuammawia Ralte began the attack soon after the match began, but Dhanachandra Singh and Nicholas Rodrigues held firm for Mumbai FC. Ebi Sukore then began to move up with Faizal Rehman and Gbeneme Friday in tow.

In the 25th minute, Sukore moved up before setting Friday in the middle. The wily Nigerian made no mistakes in putting the ball into the net for 1-0 lead.

Lajong delayed in sending substitute Renedy Singh, who given a chance could have made the difference. But in Pradhym Reddy's scheme of things, Renedy could not do justice to the time he was given to play.

In the meanwhile, Mumbai FC weren't sitting on just one-goal lead and went all out to force more and in turn earned a penalty when Sukore was fouled in the box. He coolly tapped the ball from the spot to give Mumbai FC 2-0 lead that brought evident smile on Jamil's face, who is walking on a thin rope after having joined the team with much fanfare.

Lajong pushed for reducing the margin and after Seikhahao Tuboi's goal was disallowed after line official ruled him offside, there was an urgency in Shillong's game. Finally Sushil Singh fired in one in the 88th minute, but their efforts to find that elusive equaliser went in vain.