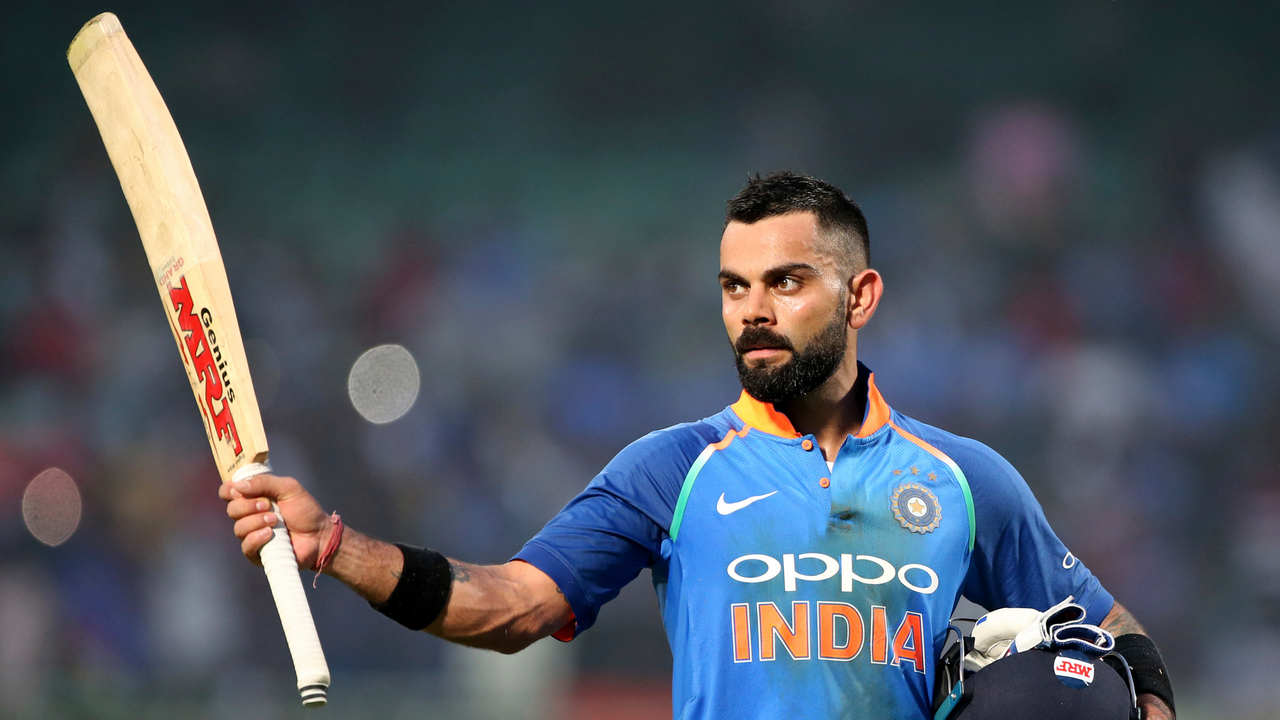 This is December 2006 and it is one of the many stories etched in the history of Delhi's iconic Feroz Shah Kotla Stadium. Karnataka has scored a massive 446 runs in their first innings and Delhi are struggling big time, they have lost 5 wickets for just 59 runs on the board. At the middle, is an 18-year old teenager who still hasn't quite cemented his place in the side. After the end of second day's play, Delhi somehow reach a 103/5, with the teenager unbeaten at 40.
That night, teenaged Virat Kohli's father, Prem Kohli, passed away, aged 54. Kohli faced a rather terrible choice- whether to go and cremate his father or try and save the match for Delhi as he was the last recognized batsman. The news of his father's death spread across the Delhi dressing room and Chetanya Nanda, the man who was supposed to bat next, was informed that Virat won't come and so he should be padded up and ready when the game starts. But everybody that day at the Feroz Shah Kotla, including the opposition, was shocked to see Virat walk in the dressing room dressed in full cricking attire. He had decided to go and bat for Delhi.
Virat batted for almost 5 hours in that innings and scored a fighting 90 runs before being given out. Post which he rushed to his home to be in his father's funeral. Delhi managed to draw the game. In many sense, that was the birth of the modern-day Virat we know, someone who is extremely passionate about his game and who knows no half measures but that single incident transformed him from a teenager to a mature adult who had decided to fulfill his father's dreams.
But this wasn't the last time that Virat had faced such a critical situation in his life. Even after a world cup win to his credit, he wasn't an accomplished batsman in Test Cricket.
Come February 2012. Virat is drafted into this ODI series on the back of a poor series against West Indies, having been dropped from England, and then finding it hard to score runs in Australia.
India go into this particular game at Hobart, having to win this in 40 overs to win with a bonus point and stay in contention for the finals. Riding on centuries from Sangakkara and Dilshan, Sri Lanka scored over 320 runs. Remember, India needed to get one more than that in just 40 overs. Despite two centurions in the Sri Lankan side, it was Virat Kohli, who stole the show that night. His 133 off 86 balls is as good an innings as you will see for quite some time to come, not only for the innings as such but the planning which went behind that spectacular run chase, which India managed to pull off in just over 36 overs.
As Virat later admitted, he played it as two back to back T20 games as he already had a fair bit of T20 experience by then. And so the target was pretty clear in the mind- 160 in each of the two 20 overs, an achievable total by T20 standards. Take a look at the commentary of that particular game and note India's score after 20 overs- exactly 160.
Another reason why the Hobart innings was special was because of what happened to his career post that. Kohli surpassed the 50 run mark in each of his next 4 innings and converted 3 of those into match-winning hundreds. For the evolution of the Kohli's career, the Hobart ODI will always be a special encounter.
The highlight of the game was the Lasith Malinga vs Virat Kohli battle. In the 35th over the match, Kohli scored 24 runs off Malinga's over, someone who was considered one of the best in limited overs cricket, with the ball in hand at that point in time.
But was it a walk in the park for Kohli after that? In 2014, a similar lean phase re-occurred in his career. Kohli managed just 134 runs in 10 innings in Test matches on England soil and fingers were being pointed at him. But look at how he responded- He waited for his next chance in England. And in his next opportunity, between which he had scored runs everywhere on the cricketing map, he scored one of his best hundreds. An innings of 149 runs- laying the foundation of a great England tour for Kohli the batsman.
Challenges are an inseparable part of the sport and how well one overcomes them determines one's longevity and success in professional sports.
That innings in Hobart, that night, was the sign of greatness to follow. There is quite some distance between a good player and great player- maybe Virat had taken his first step towards that with his innings at Hobart against Sri Lanka.
Today as one of the best batsmen in business and as captain of India in all three forms of the game, Virat is India's pride. At 30, if at all Virat's best is yet to come, make no mistake there would no batting record that he won't be able to break. HAPPY BIRTHDAY CHAMP!