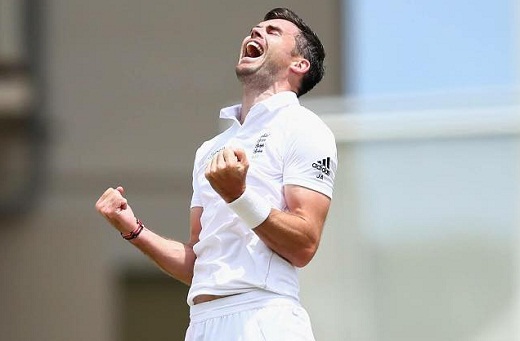 James Anderson became the sixth bowler, the first Englishman and only the third quick bowler to enter the 500-wicket club when he clean bowled West Indies' Kraig Braithwaite for four on Day 2 of the third test at Lord's on Friday. Only Sri Lankan off-spinner Muttiah Muralitharan, Australian leggie Shane Warne, Indian former captain Anil Kumble, Australian Paceman Glenn McGrath and West Indian fast bowler Courtney Walsh have taken more wickets than Anderson.
Although Anderson has entered this elite club of bowlers, cricket experts have put forth different opinions about his stats. Anderson has more than 500 wickets alongside his name but more than half of them have come in England itself, in home conditions, where the pitches and weather conditions suit his style of bowling, where his outswing is more deadly than anywhere else in the world. Others say that his Test cricket bowling average of 27.39 may suggest that he is decent but not at par with the group of bowlers present in the elite group in which he has broken into.
But even these numbers are far from real., they don't tell you that post the 2010-11 mark, Anderson's average has been around the early 20's and he has picked up wickets all over the world, leading the English bowling attack. Anderson has given tough times to batsmen who were at the top of their skills at that moment including Sachin Tendulkar, ViratKohli and Jacques Kallis. Even away from home, Anderson has proved to be quite a master of his art. It is almost like Rohit Sharma's transformation as a batsman after the 2013 Champions Trophy, but Anderson had a better pre era and is having an improved post phase where the ball is still under his control after he delivers it with the beautiful seam position of his.
At 35, Anderson is showing remarkable fitness and he hasn't dropped his pace and neither the swing of his bowling has faded. He himself has shown interest in playing and has no retirement plan as of now. His 12 wickets in the match at Lords in which he surpassed the 500 wickets mark, ensured that he moved 12 points above Ravindra Jadeja in the rankings to become No. 1 on the list.
For now, let us applaud the man's commitment towards the sport and celebrate his marvelous achievement. Looks like Glenn Mcgrath's (563 Test Wickets) prediction that "Anderson will go past him easily", will come true very soon. Cheers Jimmy!
---