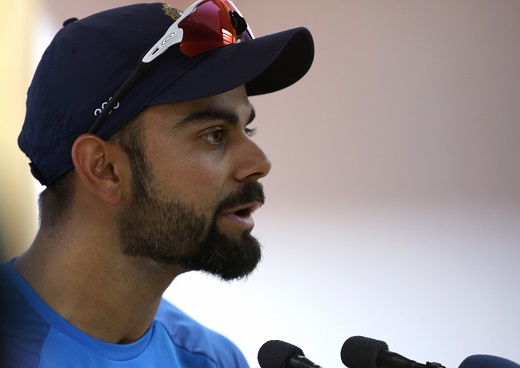 India captain Virat Kohli is the number-one ranked batsman in the MRF Tyres ICC ODI Player Rankings, with Rohit Sharma (ninth) and Mahendra Singh Dhoni (10th) also in the top-10. Left-arm spinner Akshar Patel is ranked 10th among bowlers.
For Australia, opener David Warner is ranked second among batsmen while Hazlewood and Mitchell Starc are ranked first and third among bowlers.
Meanwhile, Joe Root is the leading England batsman in fourth position while Chris Woakes is the leading bowler at 11th place.
For the Windies, Marlon Samuels (43rd) and captain Jason Holder (20th) are the leading batsman and bowler, respectively.
MRF Tyres ICC ODI Player Rankings (as on 11 September, before Windies' one-off ODI against Ireland and series against England; India v Australia series):
BATTING (top 10)
Rank Player Team Points Avge Highest Rating
1 Virat Kohli Ind 887! 55.75 887 v SL at Colombo (RPS) 2017
2 David Warner Aus 861 44.72 880 v Pak at Adelaide 2017
3 AB de Villiers SA 847 53.55 902 v NZ at Auckland 2015
4 Joe Root Eng 799 49.37 806 v NZ at Cardiff 2017
5 Babar Azam Pak 786*! 53.88 786 v Ind at The Oval 2017
6 Kane Williamson NZ 779 46.98 798 v SA at Centurion 2015
7 Quinton de Kock SA 769 43.44 803 v NZ at Wellington 2017
8 Faf du Plessis SA 768 43.41 791 v SL at Cape Town 2017
9 Rohit Sharma Ind 764 43.46 773 v SL at Colombo (RPS) 2017
10= MS Dhoni Ind 749 52.20 836 v Aus at Delhi 2009
OTHER SELECTED RANKINGS
Rank Player Team Points Avge Highest Rating
13 Steve Smith Aus 740 44.26 752 v Pak at Sydney 2017
14 Shikhar Dhawan Ind 733 44.45 794 v SA at Melbourne 2015
7 Alex Hales Eng 678 38.12 705 v NZ at Cardiff 2017
18 Eoin Morgan Eng 675 38.73 690 v Aus at The Oval 2010
19 Jos Buttler Eng 654 37.27 723 v Ban at Mirpur 2016
43 Marlon Samuels WI 561 34.30 631 v SL at St. Vincent 2003
BOWLING (top 10)
Rank Player Team Points Avge Eco. Highest Rating
1 Josh Hazlewood Aus 732! 23.85 4.69 732 v Eng at Edgbaston 2017
2 Imran Tahir SA 718 23.87 4.66 786 v SL at Johannesburg 2017
3 Mitchell Starc Aus 701 20.13 4.81 783 v NZ at Melbourne 2015
4 Jasprit Bumrah Ind 687*! 20.87 4.68 687 v SL at Colombo (RPS) 2017
5 Kagiso Rabada SA 685 26.30 5.11 724 v Eng at Lord's 2017
6 Trent Boult NZ 665 25.48 5.00 766 v Ind at Delhi 2016
7 Hasan Ali Pak 663*! 22.66 5.47 663 v Ind at The Oval 2017
8 Sunil Narine WI 662 26.46 4.12 791 v SL at Jamaica 2013
9 Rashid Khan Afg 647*! 14.74 3.97 647 v WI at St Lucia 2017
10 Akshar Patel Ind 645* 29.53 4.30 648 v SL at Colombo (RPS) 2017
OTHER SELECTED RANKINGS
Rank Player Team Points Avge Eco. Highest Rating
11 Chris Woakes Eng 627 31.60 5.58 651 v SA at Headingley 2017
6 Adil Rashid Eng 608 32.74 5.60 655 v Ban at Chittagong 2016
20= Jason Holder WI 592 32.50 5.40 605 v SL at Bulawayo 2016
ALL-ROUNDERS (top five)
Rank Player Team Points Highest Rating
1 Shakib Al Hasan Ban 353 453 v Zim at Chittagong 2009
2 M. Hafeez Pak 339 438 v Ind at Kolkata 2013
3 M. Nabi Afg 329 349 v Ire at Greater Noida 2017
4 Angelo Mathews SL 304 427 v Eng at Colombo (RPS) 2014
5 James Faulkner Aus 299 361 v NZ at Melbourne 2015
---