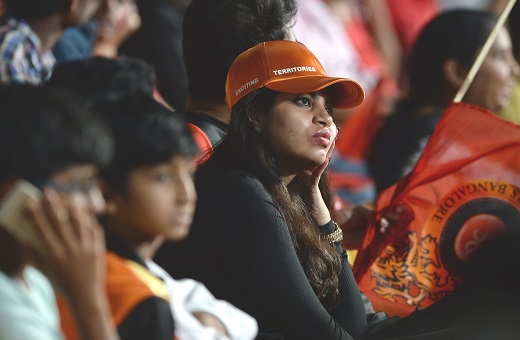 Bengaluru: The Indian Premiere League (IPL-10) tie between hosts Royal Challengers Bangalore (RCB) and title holder Sunrisers Hyderabad (SRH) was abandoned on Tuesday, as the drizzle turned into persistent rain at the Chinnaswamy stadium here, said an official.
"The umpires have called off the match as there was no let-up in the rain, which began as a drizzle at 7.00 p.m., turned into a light rain and continued even after 11.00 p.m.," an official of the Karnataka State Cricket Association (KSCA) told IANS.
Both the teams were awarded a point each, which made RCB climb to the sixth position with 5 points out of 8 games from the bottom (eighth) of the points table, while SRH moved up to third position from fourth, with nine points from 8 games so far.
A hot and humid day turned cloudy and the sky was overcast even two hours before the abandoned match was scheduled to begin at 8.00 p.m.
The toss, which was to be taken at 7.30 p.m. was rescheduled after 8.00 p.m. as the drizzle was mild then and umpires thought it could stop anytime.
An hour-long moderate rain in the evening turned the outfield wet though the pitch was well covered to protect it from the downpour.
The next league match here is scheduled on Thursday, when a bruised RCB takes on Gujarat Lions (GL), which is languishing at the table's bottom, with 4 points from 7 games, as they could win only two and lost five.
Of the two games RCB won out of seven it played so far, the second was against GL on April 18 at Rajkot with 21 runs, while the other was on the home turf against Delhi Daredevils on April 8 with 15 runs.
Thousands of fans, who came to the stadium in droves to cheer RCB despite the drizzle and waited for long, hoping the rain gods would go away, trooped out of the stands disappointed, as the coin was not tossed and a ball was bowled.
"As the match has been cancelled, we will get a chance to watch the Thursday's game on the same ticket if we don't take the reimbursement. Hope it does not rain again on Thursday as tonight (Tuesday) so we can come to watch the tie," said Sri Hari, a college student, while leaving the eastern stands, disheartened.