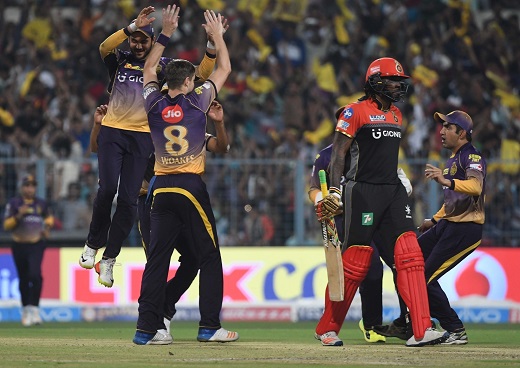 Chasing a total of 132, Royal Challengers Bangalore were bowled out at just 49 runs being the lowest score in the history of IPL.
Sunil Narine again started the inning with a bash scoring 18 runs in the first over . This is turning out to be quite the IPL for Sunil Narine, more so with the bat than the ball. Everytime he has opened the innings, he has dented the confidence of the new ball bowlers. After Kings XI Punjab and Gujarat Lions, here it was RCB's turn to feel the Narine sting as he once again began the KKR innings in blazing fashion. In the first over from Samuel Badree, Narine hit three consecutive fours and a six, scoring 18 off him. Badree was immediately taken out of the attack, but Narine continued to be on song, scoring back-to-back boundaries off his replacement Sreenath Aravind. Narine's assault seemed to have rattled the RCB unit, to an extent that even their skipper Virat Kohli misfielded. Gautam Gambhir at the other end kept Narine quiet for a while and it resulted in his wicket in the sixth over. Stuart Binny, after getting hit for a boundary, bowled one short to which Narine pulled across straight down Yuzvendra Chahal's throat at deep square leg. He had done the job once again as KKR scored 65 inside the Powerplay.
Meanwhile, Yuzvendra Chahal continued his good run in the IPL, taking his second successive three-wicket haul in the IPL. After his 3/31 against Gujarat Lions, he returned with stunning figures of 3/16 in four overs against KKR. KKR were dented having lost the in-form Robin Uthappa leg-before to Badree, and they needed Yusuf Pathan and another batsman with runs behind him, Manish Pandey to revive them. But a smart piece of bowling from Chahal broke those plans. He saw Yusuf Pathan coming down the wicket and fired it down leg. Equally good work from Kedar Jadhav, who moved well, collected the ball cleanly and took the bails off. Two overs later, he dealt KKR a double blow when he had Pandey flicking the ball to Stuart Binny at short midwicket. His third and final strike came two balls later, as de Grandhomme charged the bowler and edged it to Virat Kohli at slip. Chahal had broken the back of KKR's batting.
Considering the depth RCB possess in their line-up, defending 131 needed a special performance from KKR bowlers. And special is what they produced, led by Coulter Nile, who removed Virat Kohli for a first ball duck. RCB, in no time, were reduced to 3/2 as Mandeep Singh cut a delivery from Umesh Yadav straight to point. AB de Villiers came in and struck a couple of early boundaries to settle some nerves, but he too fell to Coulter Nile's pace, top edging him for Uthappa to take a well-judged catch. Kedar Jadhav tried to flick one towards leg but got a top edge to find Woakes at mid-on that gave Coulter Nile his third. In 3.1 overs, he had figures of 3/17.
Coulter Nile began RCB's downward spiral with the wicket of Kohli, AB de Villiers and Kedar Jadhav in his first three overs. Woakes and de Grandhomme ensured victory picking up three wickets each. Chris Gayle laboured his way to a 17-ball 7. No batsmen got to double figures - the highest was by Jadhav (9) - and wickets fell like nine pins.
In chase of 132, a total that had been defended only nine times in the past, the most glittering batting-line up of the IPL was bundled out for 49 all out, the lowest ever IPL total. The now second-lowest total belongs to Rajasthan Royals, and ironically enough, it came against RCB, who had defended a similar looking total (133) back in 2009. This was also the 10th lowest total in any form of T20.
Coulter Nile for his wonderful bowling gets the Man Of the Match.