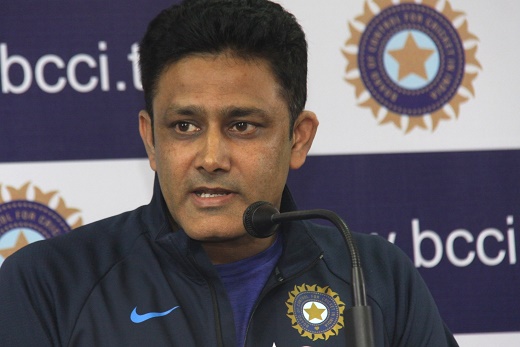 Ranchi: India cricket head coach Anil Kumble on Tuesday said that his wards don't need to curb their aggression when they take on Australia in the third Test match here from Thursday.
The second Test in Bengaluru witnessed many controversies with the on-field conduct and behaviour of several players being questioned. Off the field too, there were several allegations and counter-allegations. Home captain Virat Kohli objected to rival captain Steve Smith looking at the dressing room to get help on a review.
"I don't want to curb any natural instinct of the players as long as they go out there and do what is expected of them. I don't think we need to read too much into the aggression. Every player has his own way of having a game face," he told reporters.
"You want everyone to go out there and show what they are capable of. This is a very important series. It's 1-1. Both teams will come hard in this game. I'm sure cricket will be the winner.
"As custodians of this great game, we believe it's important that we look after the game. Key stakeholders are the players and they certainly understand their responsibility," he said.
Read more: India tour can give identity to skipper Smith's side: Pacer Cummins
The Decision Review System (DRS) controversy surrounding Smith went to the extent that the Board of Control for Cricket in India (BCCI) and Cricket Australia (CA) were forced to issue a joint statement to bring the matter to an end.
"I think what was important was to focus back on the game. I am very glad the BCCI took a very matured call with Cricket Australia and issued a joint statement that cricket needs to move on and moved out from whatever happened in Bangalore (Bengaluru)," Kumble said.
"That I think is important because focus has to be on the game. I thought we made a really fantastic comeback after losing the first Test. It was very rewarding," the former captain added.
Kumble also insisted that all the talk going on around the DRS and the pitch will not affect their focus on doing well on the field.