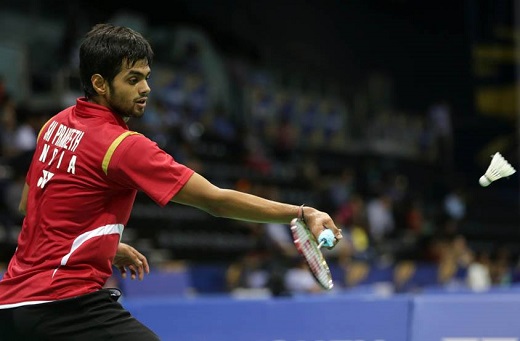 Bangkok: Third seeded Indian shuttler B. Sai Praneeth defeated Indonesian fourth seed Jonatan Christie in the final to capture the men's singles title in the $1,20,000 Thailand Open Grand Prix badminton championships here on Sunday.
Praneeth lost the first game 17-21 but came back strongly to take the next two games, 21-18, 21-19, respectively. The final lasted an hour and 11 minutes. It was world No.24 Praneeth's second title of the year after his Singapore Open Superseries triumph in April.
The 24-year-old Indian showed a lot of composure and character right from the start despite getting a slow start. In the first game, he trailed 1-4 and equalised at the five-point mark and even took the lead.
But Christie continued to attack and got a 14-11 lead but the Indian fought back to equalise at 14-all. However, Christie's ploy of attacking to the left of Praneeth worked as he won the first game 21-17.
In the second game, Praneeth caught a flying start, holding a 9-3 lead but Christie didn't surrender and bagged six consecutive points to send a strong message to his rival.
Then, they were involved in a see-saw game and in this hard-fought game, Christie showed signs of running out of gas, resulting in some poor serving. Praneeth stepped up to scavenge at this juncture and equalise with a 21-18 win.
Christie regained his energy and raced to an 8-3 lead in the third game. A desperate Praneeth got into resurrection mode. He slowly clawed his way back into the game, aided by the over-aggression from the Indonesian, who played some wayward shots.
Under pressure from Praneeth's cross-court strokes, Christie allowed the Indian to be back on level terms at the nine-point mark. The Indonesian slowed the game down by slowing down the movement of the shuttle and this affected the Indian who was going all hammer and tong.
The Indian, however, resorted to net-game which caused further problems for Indonesia, with Praneeth holding a 17-15 lead. Couple of poor service from Christie and coupled with poor net-game, allowed the Indian to take a 20-16 lead. The Indonesian then could only save two championship point, eventually losing 19-21.