Aizawl FC set the tone of the inaugural edition of the Hero Super Cup ousting the reigning Hero ISL champions Chennaiyin FC in the first Round of 16 encounter on the last day of March but their coach Santosh Kashyap feels they'll start as 'underdogs' again and East Bengal will be under pressure to win the tie but not his team when they clash their swords in the first quarterfinal of the Hero Super Cup at the Kalinga Stadium in Bhubaneswar today (April 8, 2018).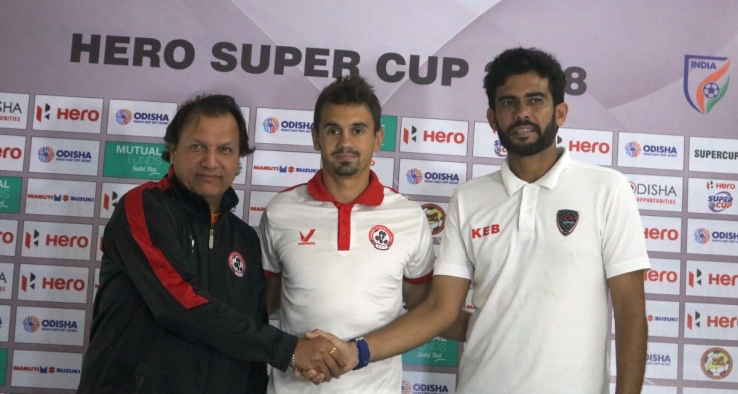 "I believe top teams are under pressure now. They have to win the championship and they have their own plans to implement. Chennaiyin were the favourites against us. East Bengal will also start as the favourites and we're happy to be the underdogs and stage upsets", Kashyap said in the pre-match press conference.
"They have to perform better and beat us. East Bengal could not win any silverware this season and expectations are huge from them."
Although they had garnered a win against Chennaiyin FC after a nerve-racking game, they had to swallow a defeat to JSW Bengaluru FC in the AFC Cup two days back.
Coach denied that the schedule might take a toll on the players. "It's a good opportunity for us. Yes, the schedule is tight but it happens in football. We're here to give our best and win, that's it."
Andrei Ionescu, the architect of Aizawl FC's last win expressed that team's win is more important than his scoring and if his scoring would contribute to the team's cause, that's going to be perfect for him.
"We respect East Bengal as opponents. But the game is not played by numbers or names. It starts with the whistle and ends with it. We have come here with a strong positive mentality and we believe that we can beat them tomorrow."
"Winning is important. I would be happy to contribute to the win. That's my primary concern, not scoring", Ionescu stated on Saturday.
"I have a fantastic set of players who can make the difference on the pitch. Dodoz, Mapuia, Kima have the pace and the capability to score against any opponent. Masih, Andrei, Alfred all are in perfect shape and we believe in our abilities", Kashyap further added.
Kingfisher East Bengal, who made a stunning comeback against Mumbai City FC, will take on their familiar foes tomorrow. Incidentally, the Kolkata-based team had failed to secure a single win against the Mizo-outfit this season.
But their Brazilian defender Eduardo Ferreira feels it's time to look forward and move on from I-League.
"Every game is like final here. We have come to play our natural game and win it. Yes, we conceded goals in I-League, but that is past. We don't look back into the past, rather we focus on the future. We are concentrating on tomorrow's game but nothing else."
He added, "The match will be played on the field. They lost an AFC Cup game and that'll make them hungrier. They will give everything on the pitch. We are aware of their capabilities and we are ready to take them on."
Coach Khalid Jamil pointed out that facing a 'known' opponent is advantageous but there is a flip side of the coin too.
"We have a fair idea about them and we can set our strategies accordingly. On the other hand, they also know us vividly and that might help them outwit us", the former Aizawl FC coach said.
The soft-spoken coach brushed the 'favourite' tag aside, saying "No one is going to start as favourites. Whoever puts more effort and works harder on the pitch, gets the positive result and tomorrow will be no different."
The match is scheduled at 4 PM and it'll be telecast live on Star Sports 2/2 HD/1 Tamil/Jalsha Movies/Suvarna Plus/Asianet Movies and streamed live on Hotstar and Jio TV.