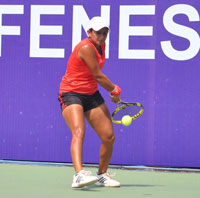 New Delhi: It was smooth sailing for the big names with top seeds in men's and women's singles – Mohit Mayur Jayaprakash and Shweta Rana – marching into the quarter-finals of the Fenesta Open National Tennis Championship on Wednesday.
Second seed Prerna Bhambri and Sharmada Balu, seeded fourth, also joined Shweta in the last-eight stage of the women's singles.
Mohit was leading 4-0 when his opponent Saurabh Patil conceded the match due to a lower-back problem, while Arjun Kadhe continued his impressive run with a 7-6(3), 6-3 win over Andhra boy Rishab Agarwal.
Vignesh notched up a 7-5, 6-3 win against Shaikh Abdullah, who is the top seed in the boys under-18. Nitten Kirrtane also made it to the quarter-finals of the men's singles with a 6-1, 6-0 verdict against Vilaser Khate.
Seventh seed Kunal Sukul, however, fell on the wayside and had to withdraw against Punjab boy Gurinder Singh. Saurabh Singh also advanced into the next round but the Delhi boy had to fight hard against Ajay Yadav. Saurabh, down one set, came back strongly to record a 4-6, 6-4, 6-2 win.
In the women's singles, top seed Shweta knocked out Nehal Sahni 6-2, 6-2 and old warhorse Rushmi Chakravorthi got the better of Sahan Shetty 6-2, 6-4.
The experience of Prerna was evident against Davanshi Bhimjiyani, who had the game and strokes to trouble the seasoned pro. The Maharashtra was not consistent and allowed Prerna to dictate terms even when she the opportunity to get back into the match.
Prerna broke Davanshi as early as in the second game of the opening set and looked at complete ease. Davanshi could manage to hold her serve just once in the first set and besides that it was Prerna all the way.
However, in the second set, Davanshi came out with more purpose and gave Prerna a tough fight. It was Davanmshi who took the initial lead in the second set, breaking Prerna in the second game but the Delhi girl returned the favour in the very next game.
Divanshi did try to come back but all her efforts were thwarted by Prerna who did not let the match slip away from her.
Fifth seed Sharmada also had to dig deep before she ended to road for Manya Nagpal 6-2, 4-6, 6-3.

Mens's Singles Pre Quarter Final
1. Mohit M Jayaprakash vs. Saurabh Patil Winner Mohit M Jayaprakash (Seed 1)
4-0, Retd
Anvit Bendre vs. Chandril Sood, Winner Chandril Sood (Seed 4), W/O Walk Over
Arjun Kadhe vs. Rishab Agarwal, Winner Arjun Kadhe, 7-6 (3), 6-3
Ajay Yadav vs. Saurabh Singh, Winner Saurabh Singh, 4-6, 6-4, 6-2
Nitin Kirrtane vs Vilasier Khate Winner Nitten Kirrtane , 6-1,6-0
Mukund Sasi Kumar vs Kunal Anand Winner Mukund Sasikumar 6-4,7-6 (5)
Shaikh Abdullah vs P C Vignesh Winner PC Vignesh 7-5,6-3
Gurinder Singh vs Saurav Sukul Winner Gurinder Singh 6-7(3),6-3,3-1 Retd

Womens's Singles Pre Quarter Final
C Sai Samitha vs. Nithya Raj Baburaj, Winner C Sai Samitha , 1-0, Retired
Davanshi Bhimjiyani Vs Prerna Bhambri Winner Prerna Bhambri 6-1,6-2
Rushmi Chakravorthi vs Sahan Shetty Winner Rushmi Chakravorthi 6-4,6-4
Eetee Maheta vs R Abinikka Winner Eetee Maheta 4-6,6-2,6-1
Shweta Rana vs Nehal Sahni Winner Shweta Rana 6-2,6-2
Amala Amol Warrick vs Sneha D Reddy Winner Sneha D Reddy 6-0,6-1
C Sai Samitha vs Nithya Raj Baburaj Winner C Sai Samitha 1-0 (Retd)
Karman K Thandi vs Mahitha Dadi Reddy Winner Mahitha Dadi Reddy 4-6,6-3,6-3

Boys 18 Pre Quarter Final
Hardeep S Sandhu vs. Shashank Nautiyal Winner Hardeep S Sandhu (Seed 3) 6-1, 6-1
S D Prajwal Dev vs. Anvit Bendre Winner S D Prajwal Dev (Seed 9) 6-2, 2-1 Retired
Balaji Lakshmanan vs. Mukund Sasikumar Winner Mukund Sasikumar 6-1, 6-1
Parikshit Somani vs. Dalwinder Singh, Winner Dalwinder Singh (Seed 12), 6-4, 6-0
Amarnath Arora vs. B R Nishep, Winner B R Nikshep (Seed 2), 6-0, 6-1
Aryan Goveas (Seed 7) vs. Shrey Gupta, Winner Shrey Gupta, 7-6 (3), 6-3
Shaikh Abdullah (Seed 1) vs. Udayan Bhakar, Winner Udayan Bhakar, 6-3, 6-4
Nikki Poonacha vs. Venkata G Paramatmuni (Seed 6), Winner Nikki Poonacha, 6-2, 2-6, 6-3

Girls 18 Pre Quarter Final
Himani Mor vs. Karman K Thandi, Winner Karman K Thandi (Seed 5), 6-1, 6-3
Devanshi Bhimjiyani vs. Eeshita Pande, Winner Devanshi Bhimjiyani (Seed 8), 6-0, 6-0
Rimpledeep Kaur vs. C Sai Samitha, Winner C Sai Samitha (Seed 2), 6-2, 7-5
Simran K Sethi vs. B Moulika Ram, Winner Simran K Sethi (Seed 1), 6-0, 6-3
Teertha Iska vs. R Abinikka Winner Teertha Iska, 3-6, 7-5, 6-3
Jennifer Luikham vs. Vanshika Sawhney (Seed 6), Winner Jennifer Luikham, 4-6, 6-3, 6-2
Sathwika Sama vs. Shristi Slaria, Winner Shrishti Slaria, 6-2, 6-4
Mihika Yadav vs Rajbir Kaur Winner Mihika Yadav , 6-1,6-0