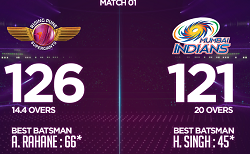 Mumbai: Rising Pune Supergiants could not have got to a better start in their inaugural match as they beat defending champions Mumbai Indians by nine wickets and 32 balls remaining in the opening match of the ninth edition on Indian Premier League (IPL) at Wankhade Stadium, here on Saturday.
Ajinkya Rahane, who was awarded man-0f-the-match for his scintillating half-century (66 off 42 balls) said that it was important to time the ball. "When we were bowling, the ball was stopping and seaming a bit. It was important to take my time and finish the game. Track was two-paced, which was different to the Wankhede wicket. It was holding and for the first six overs it was doing a lot. It's been very good, couple of practice sessions," he said, adding that Supegiants have all world class players, including Kevin Pietersen, Steven Smith, MS Dhoni, who are match-winners. "We are trying to learn many things from them," said Rahane.

Meanwhile, Pune Supergiants skipper MS Dhoni said that they could not have got a better start than this. "I don't think we could have had a better start than this. A lot of credit goes to the bowlers, specially Rajat (Bhatia). He bowled in that uncomfortable area and lost a lot of early wickets," said Dhoni.

"The opposition also went hard, and on a wicket where the fast bowlers had assistance, there were chances. There was a lot of pressure on their lower order. The bowlers did a fantastic job. We should improve in the death overs. When you don't have too many runs on the board, the batsmen have an easier job. Always felt Rahane is brilliant where the ball comes on off the wickets. He is traditional and the way he finished it off was very good. This gives us an opportunity to give us some time to interact together. It's a fun-loving bunch and the support staff have also put in a lot of effort," said the skipper.

Mumbai Indians skipper Rohit Sharma said that the pitch looked okay but they didn't bat well. "It wasn't a good total to defend. We have a lot to learn from this game. Hopefully we go back and think about it. We didn't think the ball was going to do that much. I thought they swung the ball early on and our shot selection wasn't that great and it cost us the game," Rohit said.