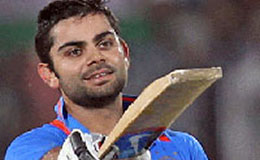 Kolkata: In the ICC Player Rankings for T20I batsmen, India's Virat Kohli has comfortably defended his number-one position. India's top-order batsman, who was adjudged player of the tournament, leads Australia's second-ranked Aaron Finch by 86 points. Kohli had entered the home competition leading Finch by 24 points.


England's Joe Root, who finished as the third leading run-getter behind Tamim Iqbal and Kohli with 249 runs, has broken into the top five for the first time in his career. Root scored 27 not out in the semi-final and 54 in the final, for which he has been rewarded with a jump seven places that has now put him in fourth position.

Marlon Samuels, who won the player of the final award, has also returned to the top 20 in 18th position. The top-order batsman scored eight in the semi-final and 85 not out in the final, which has helped him rise five places to share the position with South Africa's Quinton de Kock.

England's Jos Buttler is the other batsman inside the top 25 to improve his ranking. The wicketkeeper/batsman is now in 24th spot after moving up three places.

Batsmen outside the top 25 to head in the right direction include Lendl Simmons of the West Indies (32nd, up by 17 places), New Zealand's Colin Munro (37th, up by 18 places), Johnson Charles of the West Indies (50th, up by 14 places) and England's Jason Roy (62nd, up by 33 places).

In the MRF Tyres ICC Player Ranking for T20I Bowlers, India's pace duo of Jasprit Bumrah and Ashish Nehra have achieved career-best rankings.

Bumrah has vaulted six places to seventh, while Nehra has climbed five places and is now in 11th position.

West Indies' Samuel Badree is the number-one ranked bowler and he leads fellow wrist-spinner Imran Tahir of South Africa by 50 points, while India's Ravichandaran Ashwin is in third position, another 28 points behind.

Bowlers outside the top 25 to make an impact in the latest rankings include England's Chris Jordon (30th, up by 19 places), Adil Rashid of England (51st, up by 29 places) and Andre Russell of the West Indies (58th, up by 18 places).

There is no change in the top five of the all-rounders' list, which is headed by a retired Shane Watson. He is followed by Shakib Al Hasan of Bangladesh, Pakistan's Shahid Afridi, Australia's Glenn Maxwell and West Indies' Marlon Samuels.
ICC T20I Player Rankings (as on 4 April, after the conclusion of the ICC World Twenty20 India 2016)
Batsmen (top 25)
Rank (+/-) Player Team Pts Avge S/Rate HS Rating
1 ( - ) Virat Kohli Ind 889 58.60 135 897 v Eng at Edgbaston 2014
2 ( - ) Aaron Finch Aus 803 38.96 150 892 v Ban at Mirpur 2014
3 ( - ) Martin Guptill NZ 754 34.73 131 793 v SA at Hamilton 2012
4 (+7) Joe Root Eng 750*! 39.60 139 750 v WI at Kolkata 2016
5 (-1) Faf du Plessis SA 741 37.68 133 843 v Ban at Mirpur 2015
6 (+1) K. Williamson NZ 719 34.53 124 737 v Pak at Hamilton 2016
7 (-2) Alex Hales Eng 713 31.28 134 866 v Ind at Edgbaston 2014
8 (-2) Chris Gayle WI 696 35.32 145 831 v Aus at Colombo (RPS) 2012
9 (-1) H. Masakadza Zim 677 30.28 120 699 v Ban at Khulna 2016
10 (-1) M. Shahzad Afg 674 29.71 136 690 v SA at Mumbai 2016
11 (-1) Shane Watson Aus 664 29.24 145 832 v SA at Colombo (RPS) 2012
12 ( - ) Hashim Amla SA 646 31.50 129 657 v Eng at Mumbai 2016
13 (+1) David Warner Aus 639 28.15 140 826 v WI at St Lucia 2010
14 (+1) T. Dilshan SL 638 28.98 121 802 v NZ at Colombo (RPS) 2009
15 (+1) Sabbir Rahman Ban 632 30.20 120 644 v Ind at Bengaluru 2016
16 (+1) Rohit Sharma Ind 629 30.76 127 681 v Ban at Mirpur 2016
17 (-4) Eoin Morgan Eng 620 28.55 132 872 v Ind at Old Trafford 2011
18= (+5) Marlon Samuels WI 619 29.81 121 723 v Ban at Mirpur 2012
(-1) Quinton de Kock SA 619 29.68 128 631 v WI at Nagpur 2016
20 (-1) JP Duminy SA 612 38.46 124 713 v NZ at Chittagong 2014
21 (-1) Glenn Maxwell Aus 611! 22.62 154 611 v Ind at Mohali 2016
22 (-1) Umar Akmal Pak 605 26.80 123 709 v Zim at Harare 2011
23 (-1) Suresh Raina Ind 593 29.34 133 776 v Eng at Kolkata 2011
24 (+3) Jos Buttler Eng 575! 26.21 140 575 v WI at Kolkata 2016
25= (-1) Ahmed Shehzad Pak 553 24.97 114 709 v Ban at Mirpur 2014
(-1) Stephan Myburgh Net 553 26.50 123 585 v NEP at Rotterdam 2015
Bowlers (top 25)
Rank (+/-) Player Team Pts Avge Eco. HS Rating Ranking
1 ( - ) Samuel Badree WI 790 14.70 5.39 855 v Pak at Mirpur 2014
2 ( - ) Imran Tahir SA 740! 15.37 6.48 740 v SL at Delhi 2016
3 ( - ) R. Ashwin Ind 712 22.14 6.91 765 v SL at Visakhapatnam 2016
4 ( - ) Shahid Afridi Pak 674 24.35 6.61 814 v SL at Colombo (RPS) 2009
5 ( - ) Kyle Abbott SA 671! 22.26 7.96 671 v SL at Delhi 2016
6 ( - ) Adam Milne NZ 655* 21.80 7.36 661 v Pak at Mohali 2016
7 (+6) Jasprit Bumrah Ind 646*! 20.84 6.65 646 v WI at Mumbai 2016
8 ( - ) James Faulkner Aus 641! 20.29 8.19 641 v Ind at Mohali 2016
9 ( - ) Mohammad Nabi Afg 638! 23.95 6.90 638 v WI at Nagpur 2016
10 (-3) Ravindra Jadeja Ind 636 30.75 7.04 651 v Pak at Mirpur 2016
11= (+5) Ashish Nehra Ind 634! 20.83 7.69 634 v WI at Mumbai 2016
(-2) M. McClenaghan NZ 634 25.26 7.70 649 v Aus at Dharamsala 2016
13 (-2) Rashid Khan Afg 633*! 19.78 6.83 633 v WI at Nagpur 2016
14 (-2) David Wiese SA 632* 20.70 7.60 646 v WI at Nagpur 2016
15 (-2) Shakib Al Hasan Ban 631 20.32 6.74 672 v Pak at Mirpur 2014
16 (-1) Graeme Cremer Zim 630 16.59 6.72 669 v Ban at Khulna 2016
17 ( - ) Al-Amin Hossain Ban 612 15.17 7.46 633 v OMA at Dharamsala 2016
18 ( - ) Hamza Hotak Afg 604*! 23.26 7.01 604 v WI at Nagpur 2016
19 ( - ) M. Rahman Ban 600*! 13.95 5.98 600 v NZ at Kolkata 2016
20 ( - ) N. Coulter-Nile Aus 594*! 25.33 8.18 594 v Ind at Mohali 2016
21 (+1) Kagiso Rabada SA 583* 22.63 8.25 595 v WI at Nagpur 2016
22= (-2) N. McCullum NZ 582 22.03 6.82 709 v Zim at Harare 2011
(+1) T. v d Gugten Net 582* 19.39 6.77 605 v Ban at Dharamsala 2016
24 ( - ) M. Bukhari Net 579 18.13 6.64 616 v NEP at Amstelveen 2015
25= ( - ) Dawlat Zadran Afg 574 23.02 7.60 636 v Zim at Sharjah 2016
( - ) S. Senanayake SL 574 19.33 6.35 712 v Eng at The Oval 2014
All-rounders (top 10)
Rank (+/-) Player Team Pts Highest Ranking
1 ( - ) Shane Watson Aus 373 557 v SA at Colombo (RPS) 2012
2 ( - ) Shakib Al Hasan Ban 346 408 v Pak at Mirpur 2015
3 ( - ) Shahid Afridi Pak 332 413 v NZ at Dubai 2009
4 ( - ) Glenn Maxwell Aus 329! 329 v Ind at Mohali 2016
5 ( - ) Marlon Samuels WI 288 321 v SL at Mirpur 2014
6 ( - ) Mohammad Nabi Afg 274 276 v Eng at Delhi 2016
7 (+1) M. Hafeez Pak 271 441 v SL at Dubai 2013
8 (+1) Dwayne Bravo WI 265 268 v Afg at Nagpur 2016
9 (-2) Yuvraj Singh Ind 263 363 v Aus at Rajkot 2013
10 ( - ) Angelo Mathews SL 257 289 v NZ at New Plymouth 2016