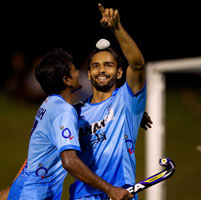 New Delhi: In their fourth and last match of the series with Australia being played at the Perth Hockey Stadium, India took the hosts by surprise and finished with a 3-1 win over the world champions, thus bagging the series 3-1.

Upbeat on the last two triumphs against Australia, India opened the first half of the game with all strength and dynamism as a result of which the initial goal of the match came in as early as in the 13th minute into the game from the stick of Akashdeep Singh of India, who perfectly converted a penalty corner into a goal.

This gave India a lead of 1-0 and an upper hand in the game. Later on, a couple of penalty corners were awarded to both the teams in the second quarter but none succeeded in materializing the opportunity. When the whistles blew for half-time, the scoreboard displayed a score of 1-0, indicating a trail for the hosts.

Australia made a strong comeback in the second half as Thomas Craig effectively converted a penalty corner into the first goal for the hosts in the 36th minute of the game, taking the score to 1-1. The game strengthened a lot more after this equalizer as both the teams looked for creating chances to score. In the final quarter of the game, it was Akashdeep Singh for the second time that scored a stunning field goal in the 50th minute and in no time S. K Uthappa of India faultlessly scored another field goal in the 53rd minute thereby taking the score to 3-1 for India. In the dying minutes of the match, the Australians tried desperately to put the ball in the net but Indian net keeper P R Sreejesh's brilliant saves held them from scoring.

The final score stood at 3-1 indicating a well deserved victory and a series win for the Indian boys. This success became even more special as Indian midfielder and Captain Sardar Singh completed his 200th international match, today.

Now India will be playing their first match against Germany in the upcoming Hero Hockey Champions Trophy 2014, scheduled to be played at Bhubaneswar, India from 6th-14th December 2014.