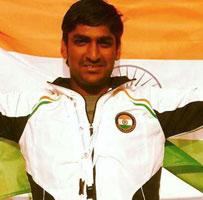 New Delhi: The Indian squad participating in the 4th Asian Shotgun Championship in Al Ain, United Arab Emirates (UAE) collected their fourth Gold Medal of the tournament today, when Ankur Mittal won the Men's Double Trap event. The 22-year old shot 141 in the qualification round and shot 28+28 in the Semifinal and Gold Medal match respectively to come away with top honours. Team mate Md. Asab Mohd Asab also reached the Finals after scoring 139 in the qualification round and won the Bronze Medal shooting 27 in the semifinals stage and 28 to win the Bronze Medal match.

Elated at the news, NRAI President Raninder Singh said, "Ankur has come up the junior ranks really well and finished a creditable 16th in a top field at the Shooting World Championships in Granada earlier in the year. This is his best in international competition so far and we expect more improvement and greater things from him going forward. It is heartening to see youngsters perform with such aplomb in top international competitions and bodes really well for the future of the shooting sport in India"

It can be recalled that in this Continental championship which began on November 1, Seema Tomar had won the Woman's Trap event earlier along with Women's Team Trap Gold alongside Shagun Chaudhary and Shreyasi Singh. Then Manavaditya Rathore, son of Olympic Silver medallist Rajyavardhan Singh Rathore, won the Junior Trap event. With today's performance from Ankur in the Double Trap, it is truly turning out to be a Golden tournament for the Indian Shotgun contingent.

India could have further bolstered its Gold tally, but the team event in the Double Trap Men event was cancelled due to in-adequate entries from the Asian countries.