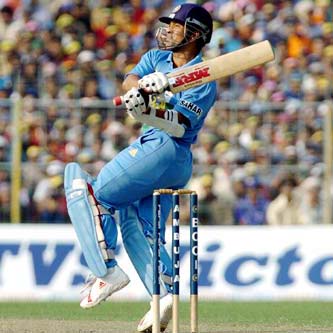 Dhaka: When Sachin Tendulkar drove Shakib Al Hasan for a single and reached the much-awaited milestone of hundred hundreds, one could make out from the Little Master's face how relief the legend was. It was a century that the whole world was waiting for and for Sachin it seemed to be the longest wait—a wait for over a year and 33 innings, which was unlike the Master Blaster. It wasn't as if Sachin was signs of being out of form, but then the pressure of expectations it seemed was taking its toll.
Speaking to Rameez Raza after scoring the milestone, Sachin said that it was a bit mentally and physically draining. "It hasn't sunk in yet. To be honest I never thought about the milestone until recently when everybody started talking about my hundredth hundred. Nobody talked about when I scored my 99th hundred. The hype was more because of the media and they created this buzz. But yes, it was getting into my head a bit later on," said the Master Blaster, adding that on a given day you need to score for your team.
"It does not matter how many hundreds you score, on a given day you need to prove and do it for your team. I have been batting well but it has been a tough phase for me," said Tendulkar, stating that the wicket was on a slower side today.
"It wasn't that easy. I consulted Virat, who had a longer day on previous occasion and he said that the wicket was slower compared to the last one. Bowl wasn't coming on to the bat. We had set a target of 275-280 which we thought would be good to defend," said the legend, advising the youngsters to enjoy the game.
'I just have one suggestion for the youngsters. Just go out and enjoy the game. Don't stop dreaming because dreams do come true. I had to wait to 22 years to redeem my dream of winning the World Cup," said Sachin.
Meanwhile commenting on the feat Sanjay Manjrekar said that it was time not to reflect on how he got the hundredth hundred but how he got the hundred of hundreds. "He is the greatest and as for my opinion, nobody will be able to touch this record," said Manjrekar.