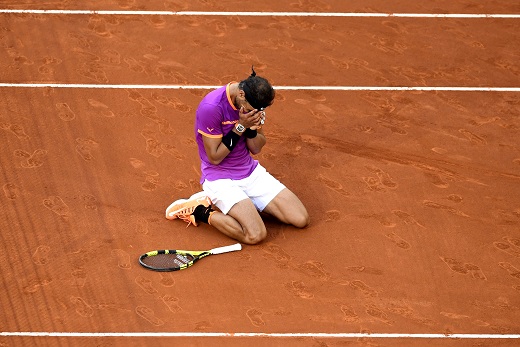 Paris: Rafael Nadal defeated Stan Wawrinka 6-2, 6-3, 6-1 to win the French Open title for the 10th time at Roland Garros on Sunday.
With this win Nadal also moved into solo second on the all-time major titles list with No. 15, behind only Roger Federer's 18 victories. He will also move to World No. 2 in the Emirates ATP Rankings on Monday.
"[It's] been magical, all the things that have happened in this tournament for me. I'm so very happy for everything," Nadal said. "Today was a very important day for me. There have been some tough moments... injuries, so it's great to have big success like this again."
Meanwhile, Wawrinka who reached the final, his second Roland Garros title match, in top form, having beaten World No. 1 Andy Murray in memorable five-set semi-final, had no answer for Nadal in Paris.
"He's playing the best he's ever played. That's for sure. But not only here. I think since the beginning of the year, you can see he's playing more aggressive, staying more close to the line," Wawrinka said. "That's why he's winning so much again."