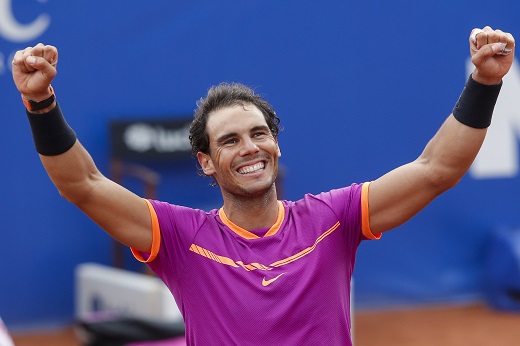 When Dominic Thiem broke Rafael Nadal's service in the very first game of the quarter final match between them at the Italian Open, you could almost sense that today was going to be a bit different from our expectations. After all the 30-year old had been on a 17-match winning streak, unbeaten, and looking invincible. The 'King of Clay' had nonchalantly brushed aside each and every player that had stood between him and his treble of titles.
Thiem himself had been such an unfortunate player twice this season; both times in finals. Rafael Nadal was looking like a man on a mission, who would stop only when he had all five trophies in his cabinet and complete his clean sweep of the clay court season. However the quarter final at the Centre Court in Rome panned out unlike any of the tales we had scripted in our minds.
23-year-old Thiem, from the outset, made his intensions quite clear and with some aggressive baseline strokes and confident hitting took on Nadal's riveting forehand and surged ahead to a 5-1 lead in the first set. The World No.7 returned beautifully and hung in there during the long rallies to force Nadal to commit the unforced errors. The Spaniard, however, dug deep into his hoard of talent and managed to pull one break back before Thiem served out the first set 6-4.
In the second set, Thiem constantly kept breathing down Nadal's neck, securing break points in the very first game. Nadal, however, held serve and the scoreboard reached 3-3 before Thiem, once again, made inroads into the fourth seed's serve to take the all important break. In the eighth game of the set, with the score at 15-40, it seemed as if young man's hard work would go to waste but, the Austrian held both nerve and serve at the crucial moment of the match; the man who seemed invincible until before then could not recover from the Thiem onslaught and, as his forehand went wide on match point the unimaginable happened. Rafael Nadal was finally defeated on clay.
The result of this particular match, although will not hamper the preparations of the nine time French Open Champion, it will certainly remove the aura of invincibility from the minds of his prospective opponents. And they have Thiem to thank-for believing in himself in spite of recent defeats, for believing in himself in spite of people not giving him much of a chance against his celebrated opponent. The doors to the French Open title have opened just a crack, it remains to be seen whether anyone widens it enough to grab the La Coupe des Mousquetaires.