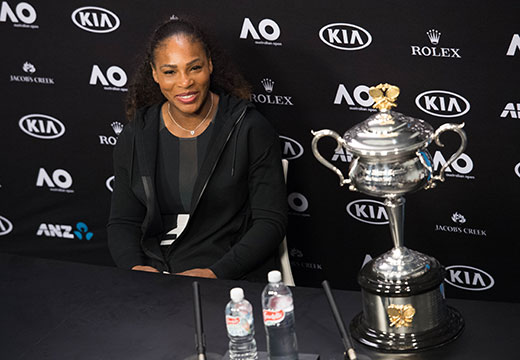 Melbourne: United States legend Serena Williams replaced German Angelique Kerber at the top of the Women's Tennis Association (WTA) singles rankings released on Monday, with 7,780 points.
Serena won on Saturday her seventh Australian Open singles title after defeating her sister Venus 6-4, 6-4 in the final here, reports Efe.
Kerber, who fell to second place with 7,115 points, took the top spot in September from Williams, who ruled the rankings for 186 consecutive weeks.
The current WTA rankings and points are:
1. Serena Williams (US) 7,780 points
2. Angelique Kerber (Germany) 7,115
3. Karolina Pliskova (Czech) 5,270
4. Simona Halep (Romania) 5,073
5. Dominika Cibulkova (Slovakia) 4,985
Read more: Swiss legend Roger Federer returns to top 10 in ATP rankings
6. Agnieszka Radwanska (Poland) 4,915
7. Garbiñe Muguruza (Spain) 4,720
8. Svetlana Kuznetsova (Russia) 3,915
9. Madison Keys (US) 3,897
10. Johanna Konta (Britain) 3,705.