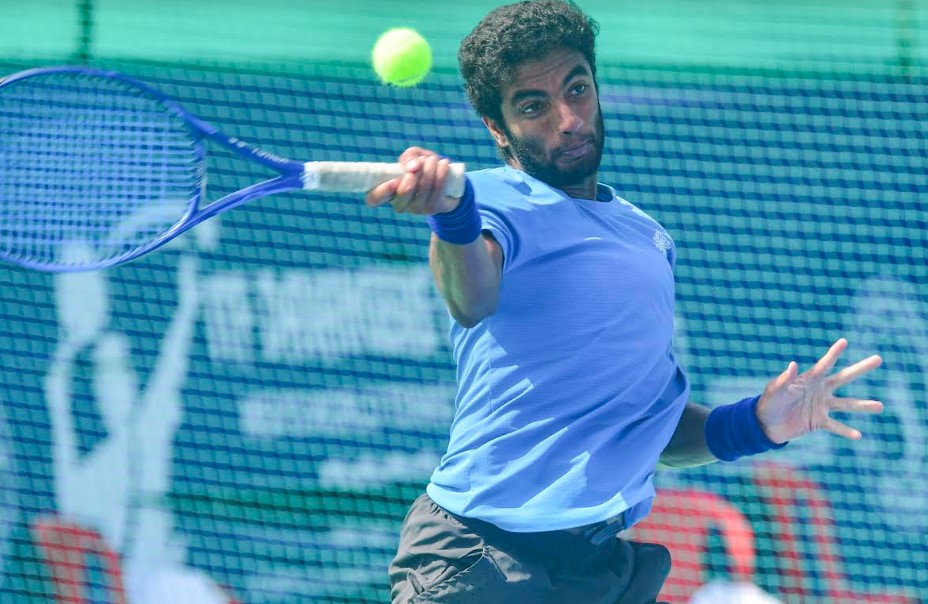 Bengaluru: On a day when four seeds bit the dust, Manish Sureshkumar and Madhwin Kamath of India created ripples with an upset victory each enroute to the quarterfinals of the ITF Davangere Open Men's World Tennis Tour.
In the pre-quarterfinal matches played at the Davangere Tennis Association Davangere courts here on Thursday, 24-year-old Manish edged past third seed Digvijay Pratap Singh in a close encounter 7-6 (5), 7-6 (2) while qualifier Madhwin battled past fourth seed Florent Bax of France 7-6 (4), 6-7 (4), 6-4 in a match that lasted 3-hours and 13 minutes.
In the other upsets of the day, Karan Singh showed sixth seed SD Prajwal Dev the door with a 6-1, 6-4 victory while in a minor upset, winner of the last leg Ramkumar Ramanathan brushed aside the challenge of seventh seed Rishab Agarwal 6-0, 6-3.
While Florent Bax, who had won the Ahmedabad leg of ITF 15K about 9 days ago, had confidence and experience in his armour, former Junior National Champion Madhwin had the determination and resilience. With a break in the fifth game and holding onto his serve, the Indian went 4-2 up but soon Florent, not only levelled at 4 but went ahead 5-4. Both the players traded a break each before the set was decided via tie-breaker with the younger opponent winning at 4.
The 21-year-old Madhwin whose roots belong to Mangaluru in Karnataka but lives in Gujarat, capitalised on his rival's mistake and raced to a 5-2 lead. However, he lost his rhythm while on the cusp of grabbing the match as Florent saved two match points before winning the second set which was decided via tie-breaker.
The final set saw Madhwin taking control of the match with a 5-1 lead, courtesy breaks in the first and fifth games. However, the Frenchman clawed back into the game wining three consecutive games and reduced the margin to 4-5 before Madhwin served out for the match.
Results
(Seeds in parenthesis, Country except India mentioned in brackets)
Singles Pre-quarterfinals
8-Niki Kaliyanda Poonacha bt Vishnu Vardhan 7-6 (5), 7-6 (1); 1-Nick Chappell (USA) bt Dev Javia 6-4, 6-4; Karan Singh bt 6-SD Prajwal Dev 6-1, 6-4; Ramkumar Ramanathan bt 7-Rishab Agarwal 6-0, 6-3; 2-Bogdan Bobrov bt Mitsuki Wei Kang Leong (MAS) 6-4, 7-6 (1); 5-Sidharth Rawat bt Q-Adil Kalyanpur 6-2, 6-3; Manish Sureshkumar bt 3-Digvijay Pratap Singh 7-6 (5), 7-6 (2); Q-Madhwin Kamath bt 4-Florent Bax (FRA) 7-6 (4), 6-7 (4), 6-4.
Round of 32
Q-Adil Kalyanpur bt Siddhanth Banthia 7-6 (4), 7-5
Doubles (Quarterfinals)
1-Purav Raja/Ramkumar Ramanathan bt Oges Theyjo Jaya Prakash/Madhwin Kamath 6-4, 6-0; 4-Siddhant Banthia/Vishnu Vardhan bt Manish Ganesh/Suraj R Prabodh 6-3, 6-4; 2-Bogdan Bobrov/Nick Chappell (USA) bt Ishaque Eqbal/Faisal Qamar 6-3, 7-6 (5); 3-Sai Karteek Reddy Ganta/Manish Sureshkumar bt Raghav Jaisinghani/Rishi Reddy 6-3, 6-4.