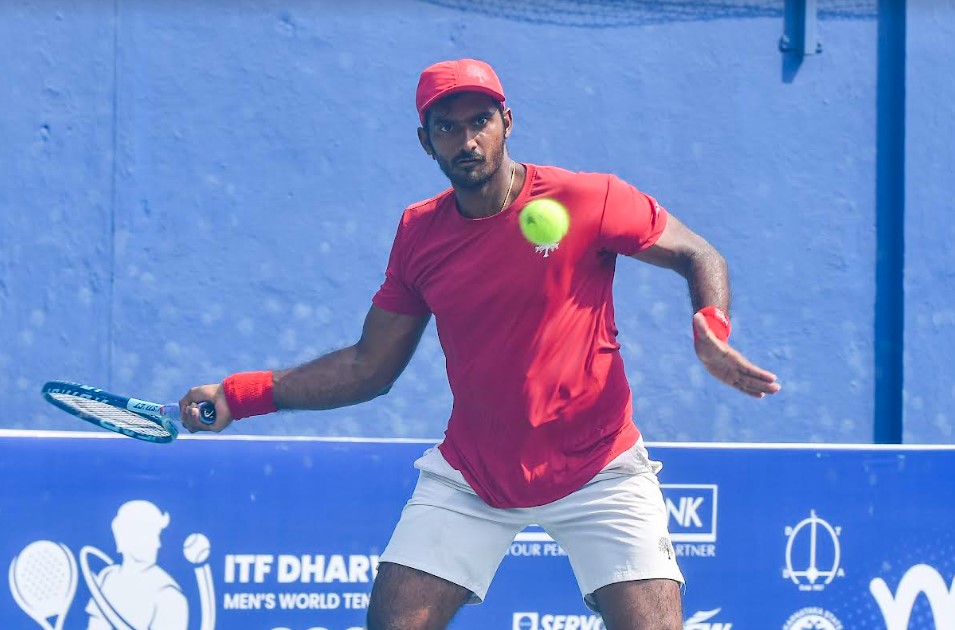 Dharwad: In a rare instance, all the seeds lived up to their billing as they entered the quarterfinals of the ITF Dharwad Men's World Tennis Tour 2023. The fancied players' march into the last eight of the US $ 25,000 event was led by top seed Nick Chappell of the USA who quelled a spirited fight from Karan Singh winning the tie 6-4, 6-4 at the Dharwad District Lawn Tennis Association courts here on Thursday.
Amongst the seeded Indians, third seed Digvijay Pratap Singh, fourth seed Ramkumar Ramanathan, Sidharth Rawat (No.7) and SD Prajwal Dev (No.8) also made it to the quarterfinals.
Ramkumar who had won the ITF Futures at the same venue nearly a decade ago found the going tough against the talented Ishaque Eqbal as the latter went 4-1 up with a break in the fourth game. However, the 28-year-old Indian Davis Cupper bounced back to level at 4. The games went with the serves until the set was decided in the tie-breaker which was contested fiercely and was settled at 8-6 in favour of the fancied player.
The second set saw Ramkumar continue in the same vein breaking his opponent's serve in the second set to go 3-0 up. Thereafter both the players held their respective serves with Ramkumar serving out for the match in 1 hour and 28 minutes.
In another interesting duel, Karan Singh of India put up a stellar fight against the southpaw Chappell. After having sent Malaysian Mitsuki Wei Kang Leong home in a gruelling first round match in the morning, Karan didn't show any signs of tiredness as he took on the top seed. Both the players fought for every point until the eighth game. A couple of unforced errors cost Karan the ninth game as he went down 4-6 in the first set. Karan with a break in the second game went 3-0 up. However the American soon restored parity. Karan then held his serve but could not sustain the momentum as he committed a series of unforced errors, gifting his opponent the set and the match.
Results
(All Indians Except Mentioned In Brackets; Seedings In Pre-Fix)
Singles: Pre-quarterfinals (Round of 16)
3-Digvijay Pratap Singh bt Rishab Agarwal 6-4, 6-2; 4-Ramkumar Ramanathan bt Ishaque Eqbal 7-6 (6), 6-3; 1-Nick Chappell (USA) bt Karan Singh 6-4, 6-4; 7-Sidharth Rawat bt Nitin Kumar Sinha 6-3, 7-5; 5-Kazuki Nishiwaki (JPN) bt Q-Madhwin Kamath 6-4, 6-4; 2-Bogdan Bobrov bt Ranjeet Virali-Murugesan 6-3, 6-3; 8-S D Prajwal Dev bt Suraj R Prabodh 6-3, 6-1; 6-Florent Bax bt Enrico Giacomini (ITA) 6-4, 6-0.
Round of 32
Karan Singh bt Mitsuki Wei Kang Leong (MAS) 7-6 (3), 7-5.
Doubles Quarterfinals
4-Siddhant Banthia/Vishnu Vardhan bt Manish Ganesh/Suraj R Prabodh 6-3, 7-6 (4); Sai Karteek Reddy Ganta/Manish Sureshkumar bt Rishab Agarwal/Florent Bax (FRA) 6-3, 7-6 (4); 3-SD Prajwal Dev/Nitin Kumar Sinha bt Ishaque Eqbal/Faisal Qamar 6-2, 4-6, 10-5.
Round of 16
Digvijay Pratap Singh/Karan Singh bt 1-Purav Raja/Ramkumar Ramanathan 7-6 (3), 3-6, 10-6.