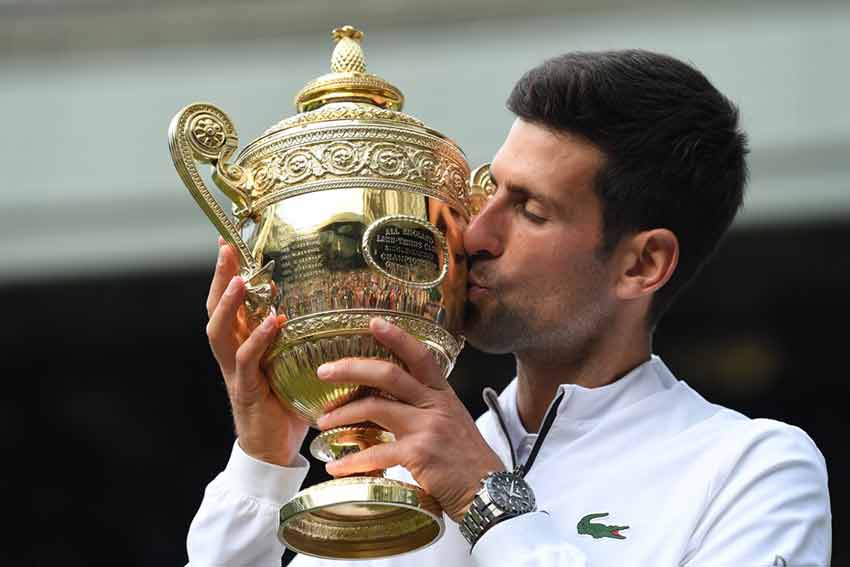 Novak Djokovic saved two championship points to beat Roger Federer 7-6(5), 1-6, 7-6(4), 4-6, 13-12(3) in a historic and classic Wimbledon final on Sunday.
Djokovic was down two points in the fifth set as Federer served at 8-7, 40/15. But Djokovic saved them both when the eight-time Wimbledon champion missed a forehand wide and Djokovic nailed a forehand pass. Thereafter, the Serbian won the tie-break to celebrate his fifth Wimbledon title. This was Djokovic's third win against Federer in a Wimbledon final (2014-15).
"It was probably the most demanding, mentally most demanding, match I was ever part of," said Djokovic, adding, I had the most physically demanding match against Rafael Nadal in the finals of Australia [in 2012] that went almost six hours. But mentally this was different level, because of everything."
"It's hard to not be aware of the crowd. You have that kind of electric atmosphere, that kind of noise, especially in some decisive moments where we're quite even. It's one way or another. The crowd gets into it. Of course, if you have the majority of the crowd on your side, it helps, it gives you motivation, it gives you strength, it gives you energy. When you don't, then you have to find it within, I guess," he added.
Meanwhile Federer said, "I don't know what I feel right now. I just feel like it's such an incredible opportunity missed, I can't believe it."
Speaking about his record that might be broken by Djokovic and Rafael Nadal, Fedrer said, "I didn't become a tennis player for that. I really didn't. It's about trying to win Wimbledon, trying to have good runs here, playing in front of such an amazing crowd in this Centre Court against players like Novak and so forth. That's what I play for."