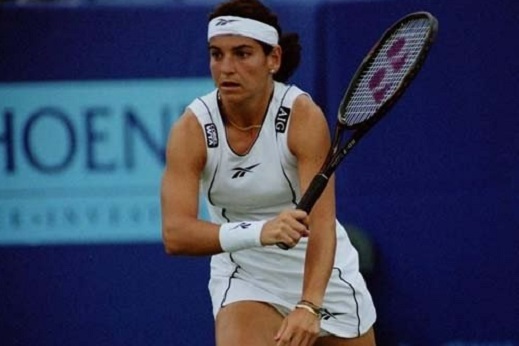 New Delhi: Legendary Spanish tennis star Arantxa Sánchez on Monday said the feeling of becoming the youngest winner of the women's singles title at the 1989 French Open took three days to sink in.
Sanchez, at 17, defeated former World No.1 Steffi Graf in the thrilling final to become the youngest to clinch the title before Monica Seles broke the record the following year when she won the title at age 16.
"She was unbeatable and I had to sweat it out for more than three hours to beat her. It took me three days to realise about my achievement," Arantxa said.
A winner of four Grand Slam singles and six doubles titles, the 45-year-old, on her maiden visit to India, recollected the moments of her pulsating three-and-half hour intense contest against Graf.
"Frankly I had nothing to lose as I was playing against Graf. I started getting stronger with the support of the crowd after which I won the first set 7-6," she said.
"The confidence grew with the first set win but she came back strongly in the second which I lost 3-6. I went on slowly in the third as she took a 5-3 lead before I managed to level her at 5-5 and break her again at 6-5 when my legs started shaking."
"I could not believe myself and kept on rolling again and again on the clay court until she came to me to shake my hands and I said to myself 'Oh my God, I won it'," she added.
Arantxa, who has four Olympic medals from her five appearances, said no player should be counted out before being given a proper opportunity.
Commenting on the importance of playing on clay courts during the formative years of a tennis player, the Barcelona-based star said: "It's important for young kids to start playing on clay courts, where it helps develop all-round strength, stamina, determination which can't be achieved on hard-courts or grass."
Arantxa, who is in the capital for the final leg of the third edition of the 'Rendez-vous à Roland-Garros', to be held at the R.K. Khanna tennis Stadium on Tuesday and Wednesday will also host a clinic with the 16 finalists.
"The Indian talent that has been on show in the event so far has been impeccable. The 'Rendez-vous à Roland-Garros' has been fostering long journeys for these tennis players and I am proud to be part of it," the Spaniard, who was named the brand ambassador, said.
After having witnessed successful qualifying legs in Kolkata and Pune, a total of eight boys and as many girls will vie for the top honours to win a ticket to participate in the wild card playoffs of the Junior French Open 2017 in Paris.
The winners will have the opportunity to compete against the best players from US, Japan, China, Brazil and South Korea.