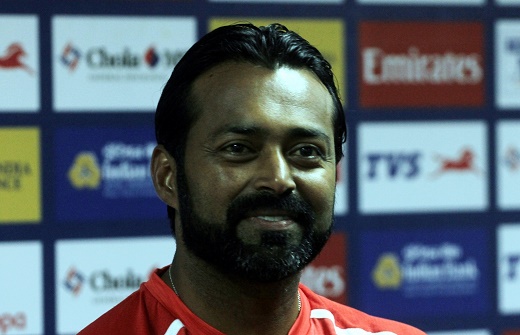 Melbourne: Veteran Leander Paes and his mixed doubles partner Martina Hingis were knocked out of the Australian Open in a 3-6, 2-6 defeat by Sam Groth and Samantha Stosur in the quarter-finals here on Thursday.
The Indo-Swiss pair went down without putting up much of a fight, surrendering in only 55 minutes at Melbourne Park.
The Australian pair were dominant from the start, hitting as many as 12 aces in the match, nine more than their opponents.
They also hit 29 winners, nine more than the experienced Paes-Martina, and won 56 of the total 93 points played in the match, converting four of the seven break points received.
The Indo-Swiss pair, unseeded, never got the measure of their Australian opponents' serves, and only received one break point in the entire match but failed to utilise it.
Paes-Martina didn't hit upon any rhythm in the match. They committed too many unforced errors that contributed to their downfall.
A backhand error led to the Australian pair reaching match point and then they sealed the fate of the contest with a forehand winner.
Paes' serve proved to be the weak link in the contest which the Australians exploited tellingly.
Paes was broken in the fifth game of the first set, as Groth-Samantha took a 3-2 lead, then held serve to consolidate the lead to 4-2.
The Indian was broken again in the ninth game as Groth-Samantha won the set with a backhand winner.
Paes' serve was broken twice in the second set, in the fourth game to trail 1-3 and again in the eighth game as the veteran duo conceded the match.
Paes and Martina defeated Australians Casey Dellacqua and Matt Reid 6-2, 6-3 in their pre-quarters match on Monday.