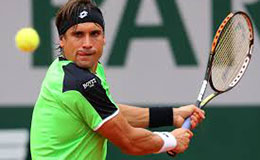 Melbourne: Spain's David Ferrer defeated American tennis player Ernesto Escobedo to advance to the third round of the Australian Open here on Thursday.
Ferrer took two hours and 46 minutes to achieve the 2-6, 6-4, 6-4, 6-2 victory in the second round,reports Efe.
The 21st seed Ferrer will now face his compatriot Roberto Bautista,who earlier defeated Yoshihito Nishioka of Japan 6-2, 6-3, 6-3 in two hours and nine minutes.
"I am 21 in the world. This is my ranking. I'm not thinking about (my position)," the former world No. 3 was quoted as saying by the tournament's official website.
"(At) this moment I'm trying to enjoy myself and my tennis. I'm going step by step and will be focused on my next round. I don't have a sure goal. Depends on the moment, the part of the season. We just begun the season - we'll see (as it progresses).
Read more: Leander Paes and partner Andre Sa out of men's doubles in Australian Open
"It was tough. I'd never played with Escobedo and he surprised me. He had very good shots, lots of power and it was not easy. I made a few mistakes in the first set, little bit nervous," Ferrer admitted.