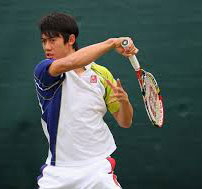 Melbourne: Japanese tennis star Kei Nishikori showed his fighting prowess to start the Australian Open with a 5-7, 6-1, 6-4, 6-7(6), 6-2 win against Russian Andrey Kuznetsov here on Monday.
The fifth seed survived a gruelling three hours and 34 minutes.
Also Read :Kerber survives opening round scare in Australian Open
"I didn't quite play great tennis in the beginning, but especially in the fifth set, I think I was really focused and played good tennis," said Nishikori after the match, as quoted by the Association of Tennis Professionals (ATP).
"I'll try not to play a long match like this again. But the fifth set was pretty good, so I think I'm in good shape for the next round."
Nishikori led the fourth-set tie-break 5-2 before Kuznetsov stormed back, winning six of the final seven points to force a fifth set.
But Nishikori came through again under pressure.
In the fifth set, Nishikori broke the 25-year-old right-hander to lead 3-1 and finished the match with another break.
"It wasn't easy," he observed.
The 27-year-old has reached the quarter-finals here at Melbourne Park three times -- in 2012, 2015 and 2016.
In the second round, he'll meet Frenchman Jeremy Chardy.