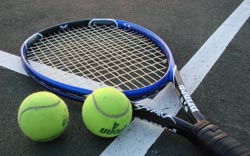 Kolkata: Budding talents from 13 countries will slug it out at the International Tennis Federation's (ITF) junior championships, starting at the Dakshin Kalikata Sansad (DKS) sports complex from next Monday, the organisers announced here on Friday.
The six-day event, which is entering its 25th year here, is set to end on January 21 and would be staged on five clay courts.
The singles winner will grab 60 rating points while for doubles it is 50. The runners-up in the singles event will bag 45 points while it is 30 for doubles.
Back-to-back national champion Nitin Sinha, ranked 291, will lead the Indian challenge along with Parikshit Somani, 270, who lost to Sinha in the 2015 summit clash.
Both the players reached the quarter-finals of the Delhi leg of the ITF juniors. There will be a last round in Indore after Kolkata. The Chandigarh leg flagged off the colts' tourney.
The All India Tennis Association Secretary general and the Bengal Tennis Association (BTA) President Hironmoy Chatterjee informed that Nitin is in India's Davis Cup squad.
"He is there to gain experience at the highest level," Chatterjee told reporters.
The thirteen countries which will be taking part are the USA, Chinese Taipei, Croatia, Kazakhstan, Philippines, Thailand, Indonesia, Korea, Belgium, Russia, Uzbekistan, Pakistan, Syria besides hosts India.
From Pakistan, Aman Attique Khan will play the qualifiers starting from Saturday.
In the boys section, Siddhant Mahala, Arghya Das, Naithaolin Calvin Golmei, and Asutosh Tiwary have been handed wild cards.
For the girls category, the wild cards entrants are Y. Sai Dedeepya, Rashmika Rajan, Yubrini Banerjee and Adrija Biswas.