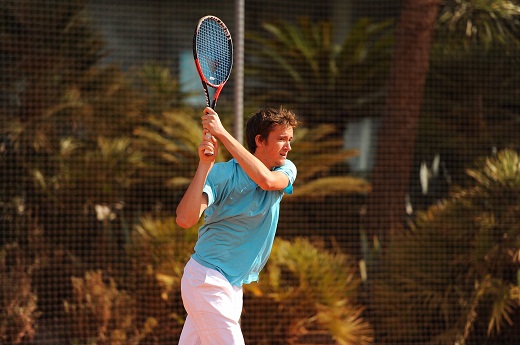 Chennai: Next Gen Star Daniil Medvedev of Russia belongs to the new breed of tennis players. Like many of his peers, the 20-year-old, who has now moved to France for logistical reasons, is wont to flaunt his attitude and play without fear.
Medvedev moves very well despite his 6'6" frame and can slam down big serves and hit winners from the baseline with impunity. Nicknamed "Bear", Medvedev reached his first-ever ATP final at the Chennai Open and is quickly making his move up to the big stage, rocketing up 34 spots to a career-high of 65, and will make his Grand Slam debut at the 2017 Australian Open in a week's time.
He opens up in an exclusive chat about his goals, the skill sets needed to make it to the top, support from the Federation and his friendship with fellow players.
What goals has he set himself? Medvedev said that he aspires to reach the Top 10 in his career. In 2017 he wanted to stay in the Top 100 and then review the goals with his coach at a later stage if he gets into the Top 50 too. "Another goal for the season would be to qualify for the year-end tournament ATP Finals for Next Gen (Aged 21 and under) at Milan," he added.
Asked about the skill sets required to make it to the top of world tennis given the slower surfaces now, Medvedev felt that the serve was the most important shot in the game. "Without the serve, you cannot do anything. So that's what everyone needs to work on. Also you have to develop your defensive game, especially on clay. But aggressive players are still at the top. You have to know how to do everything."
The Russian, who prefers grass, felt that the return of serve was his best shot but he needs to work on his volley.
Read more: Roberto Bautista Agut lifts Chennai Open title
When reminded that mental strength could prove a crucial factor in rising to the top, Medvedev agreed that it would be very important at this stage of his career. "One of my coaches has a mental degree and he has helped me in this area. There are so many tough matches and so many good players. So it's the key to being at the top."
An emotional player, Medvedev has had some forgettable moments on court, including a disqualification for racial comments during a match at the Savannah Challenger in 2016. This was when he questioned the impartiality of a chair umpire saying that she was friends with a player.
However, Medvedev said that he had learnt from his mistakes. "I have done a mistake and have learnt from it. I still have to work on it though (controlling my emotions). So if someone punishes me, I know I was wrong. So I'm good with the rules."
Does he have any friends or rivals on the Tour? Medvedev said with a smile that he hoped he didn't have any rivals.
"In some matches we might exchange some words on court, but we all chill when we go back to the locker room. I am also happy to see the players I was playing with in the juniors on the ATP Tour. I am close friends with Karen (Khachanov) and (Andrey) Rublev. Karen and I have played against each other since the age of 10. So we are always competing against each other. When one of us does well, the other one tries to go higher. Right now I am trying to catch up with him."
During his rise up the rankings, Medvedev rued the fact that he did not get sufficient help from the Russian Federation. "There was a little help but they should support the younger generation and juniors more. It could be in the form of a National Centre, financial aid and buying tickets to the tournament for player, sending the coaches. I don't blame them too much but they should do more!"
So what prompted the move to France? "Moscow is a very good city but it gets harder as you get older. It took three hours to travel back and forth by car to the practice and there was no time to rest. We also had to practise indoors for nine months of the year because of the weather. My sister has been living in France for six years now. Since the weather is better, we decided to move to an academy there. Now I can practice and come back home to rest." Medvedev explained.
Asked about his nickname "Bear", Medvedev said with a laugh that there was no big story behind this. His surname Medvedev literally meant bear in his native Russian language. So his friends started calling him "Bear" (in English).
Off court, Medvedev is like any other youngster, spending a lot of time playing on PlayStation with FIFA being one of his favourite games. But on court he displays a steely determination that was on view when he saved a match point against Dudi Sela on his way to the Chennai Open final. One can surely expect great things to come from the talented youngster if he continues to improve in the current manner.- By S. Rajesh