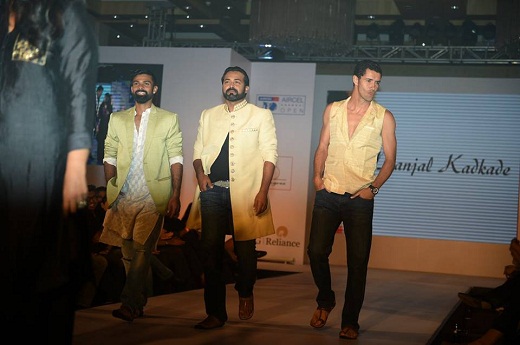 Chennai:India's multiple Grand Slam champion Leander Paes and Bosnia and Herzegovina's movie star and tennis sensation Damir Dzumhur set the ramp on fire when they walked for designers Lalit Dalmia and Pranjal Kadkade at the Aircel Chennai Open fashion show here organised by 6 degrees.
Russia's upcoming star Daniil Medvedev, US's Nicholas Monroe and Indian rookie Jeevan Nedunchezhiyan were the other tennis stars who successfully blended fashion with sports here on Monday.
Commenting on the show, Nikhil Hedge, founder of 6 Degrees, said: "We are extremely proud to be partner of the Aircel Chennai Open this year. This event gives a platform not only to tennis maestros but also to fashion professionals with flair of design sensibility."
The 20th edition of the $500,000 Aircel Chennai Open got off to a great start here at the Sports Development Authority of Tamil Nadu (SDAT) Stadium here on Monday.