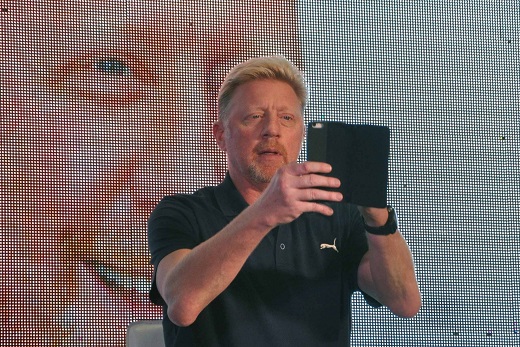 Kolkata: Former World No 1 tennis player and ex-coach of Serb superstar Novak Djokovic, Boris Becker on Saturday said current top women's doubles player Sania Mirza brings him luck and vice versa.
Becker, who is here for the 25k Kolkata marathon, was asked about his association with the Indian players. Answering the question, the iconic German said: "I am good friends with all three. In fact the player I see the most is (Sania Mirza) because she is so good and No.1 in doubles so I see her in most tournaments on the final weekend.
"We have this good luck routine and every time we are having lunch and she is with her doubles partner and I am with the team, she is winning the doubles tournament. So Sania insisted on all the important tournaments that we have lunch together because I bring her luck and she brings me luck," the 49-year old revealed.
Becker said this is the reason he is closest with Sania. "I am closest with her. And with all others I am good friends and we know each other for a very long time," he said.
Becker recently ended his three-year-old successful association with current World No. 2 Novak Djokovic. The 29-year-old Serb won six Grand Slams under Becker's tutelage.
Asked about the split, Becker said, "Any player-coach relationship doesn't last forever. We had three successful years and won many tournaments. It was time to go separate ways. I call him a very good friend and he can always call me when he needs me.
"We both decided there was a time we needed a break. Who knows what will happen in a year or two."
On Djovokic's recent slump in form which has seen Scotman Andy Murray pip him to the numero uno position, Becker said it's a matter of time before the 12-time Major winner starts winning next year.
"I think it was a novel evolution for Novak. He is not a machine, he is human. He has had his moments and sometimes when you have a long career you need to see the bigger picture. I'm sure he will come back next year and start winning again."
Asked while taking up coaching seriously, was he influenced by anybody, Becker said: "I was running the German junior team for five years after my retirement in (1999) so I had my first hand coaching experience coaching the young German team some of whom made the world top 10.
"Coaching is in a way difficult for a successful player because coaching is not about you but about the player you coach. And if you're a successful player your ego tends to come in between and it's a lot about yourself.
"The number one rule for coaching is it is not about you but the player you're coaching. I think it takes a little bit of maturity, bit of wisdom and a bit of years on your shoulders to understand it. I think I am a better coach now than I was 10 years ago."
Becker, a six-time Grand Slam winner, said every tournament he has played is special.
"I have played over 1,000 matches and each match was always difficult. As I said Wimbledon final is not won only on a Sunday but on those Monday morning when you struggle to go through the first round.
"An Olympic gold is much more memorable now that in 92 than when I was playing because I was between Wimbledon and the US Open. So sometimes you get a bit lost in transition. Becoming No.1 is the ultimate goal for any sportsman. But it doesn't happen overnight but over 12 months.