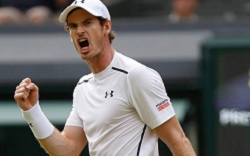 London: World No 1 Andy Murray will take on World No. 2 Novak Djokovic in the final of Barclays ATP World Tour Finals, here on Sunday. Meanwhile, whoever wins this evening will also be the year-end No. 1 in the Emirates ATP Rankings.
Earlier, Andy Murray fought off a match point and outlasted Milos Raonic on Saturday during their Barclays ATP World Tour Finals semi-final. The Scot prevailed over Raonic 5-7, 7-6(5), 7-6(9) in three hours and 38 minutes, the longest three-set match at the season finale since match times were recorded in 1991.
"It was one of the tougher matches I played this year," Murray said. "It was not easy... obviously with it being very long, but also mentally tiring as well."
Meanwhile, Novak Djokovic had an easy day against Kei Nishikori 6-1, 6-1. Djokovic was ruthless in extending his FedEx ATP Head2Head to 11-2 against Nishikori, blasting past the Japanese in just one hour and six minutes. Djokovic fired 14 winners in total, also benefiting from 24 Nishikori unforced errors.
"The best performance of the tournament came really at the right time," said Djokovic. "Everything kind of clicked together tonight. I felt really well. I started with a great pace, great concentration, dictating the play, mixing up the pace. Everything was going well. I am very pleased.