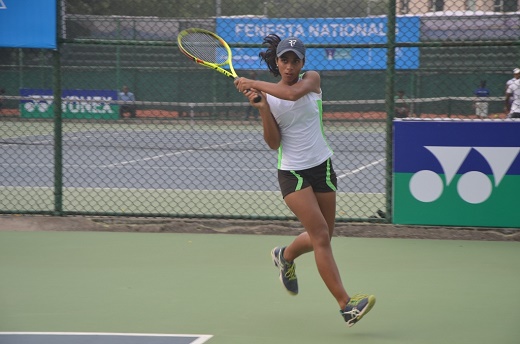 New Delhi: Fourth seed Jaishvin Singh Sidana had a roller-coaster ride against Mohit Bendre before advancing in the under-14 section of the Fenesta Open National Tennis championship on Tuesday.
Jaishvin did not know what hit him in the first set as he was unable to win a single game. He then regrouped to win the second set comfortably at 6-1 before Mohit stretched him in the decider. In the end, when Jaishvin walked off the court with a 0-6, 6-1, 7-5 verdict, he was satisfied with the labour he put in.
Top seed Mehul Zaveri was in cruise control as he whipped Sammar Raina 6-3, 6-1 while second seed V. Jhavia had no trouble in beating Bhupinder Dahiya 6-1, 6-1.
It turned out to be am exacting match for Sanya Singh, the top seed in under-14 as she played an up and down game before beating Likhitha Kalava 4-6, 7-5, 6-4.

In the under-14 section, there is not much to differentiate between the top players and unseeded ones which is why Sanya was kept on her toes till the end.

Second seed Bhakti Parwani was in the zone as she played sparkling tennis to beat Asmita Kaur 6-1, 6-2 while third seed SharannyaGware beat Aditi Narayanan 6-0, 6-0.

In the Girls Under 16 the top Vaidehi Chowdhary had an easy win over Reshma Maruri with a score 6-2, 6-1. While the second Humeira Shaikh beat Vanshikha Choudhary 6-3,6-2.
Results at 5:30 pm
Girls Under 16:
Vaidehi Chowdhary (Seed 1) bt Reshma Maruri 6-2,6-1: Humeira Shaikh ( Seed 2) beat Vanshikha Choudhary 6-3,6-2: Tanisha Kashyap (Seed 4) bt Muskan Gupta 6-4,6-4
Boys Under 14:
Mehul Zaveri (Seed 1) btSammar Raina 6-3,6-1; Dev Jhavia (Seed 2) bt Bhupinder Dahiya 6-1,6-1; V M Sandeep (Seed 3) bt Sarvesh Bimane 6-3; 6-2; Jaishvin Singh Sidana (Seed 4) bt Mohit Bondre 0-6,6-1,7-5; S. Boopathy (Seed 5) bt Sanjith Devineni 6-3,6-1; Divesh Gahlot (Seed 6) bt Vaibhav Bisht 6-3, 7-6(4)
Girls Under 14
Sanya Singh (Seed 1) btLikhithaKalava 4-6, 7-5,6-4; Bhakti Parwani (Seed 2) bt Asmita Kaur 6-1, 6-2; SharannyaGaware (Seed 3) bt Aditi Narayan 6-0,6-0; RichaChougule (Seed 5) btIshita Singh 6-2,6-2; GargiPawar (Seed 6) btMedhaviSingla 4-6,6-3,6-2;