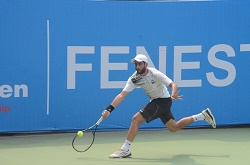 New Delhi: Delhi's Kunal Anand played aggressive tennis from the baseline to upset third seed VM Ranjeet in the quarter-finals of the Fenesta Open National Tennis Championship on Thursday.
The 24-year-old young man, who has learnt most of his tennis at the Siri Fort DDA complex, hung in well against a seasoned player to force a 5-7, 6-4, 6-2 wins in tough humid conditions.
Rarely does one get to hear about a player from Delhi making it big in the men's nationals. Kunal showed that as a journeyman whose ATP ranking hovers in the 800 region, he has the game to be patient and close out the match when it goes down to the wire.
In recent times, Kunal has been in two ITF doubles finals, and his backhand is the stronger shot. He next runs into Vishnu Vardhan in the semi-finals.
Top seed Vishnu Vardhan was in impressive form yet again as he dumped Dalwinder Singh 6-2, 6-4. Familiarity with conditions and experience made it easy for Vishnu in the last eight stages.
Haadin Bava also entered the semi-finals by defeating Jayesh Pungaliya 7-5, 6-2. Haadin will meet Siddharth Vishwkarma in the second semi-finals. Siddharth ended the winning spree of Tejas Chaukulkar (7-5, 6-4).

The women' section also witnessed some long matches in high humidity as top seed Riya Bhatia played an up and down game before ousting Nidhi Chilumula 6-7 (7/9), 6-3, 6-2.

Eetee Maheta was also taken the full distance as she dug deep into her reserves to beat Mihika Yadav 6-7 (5/7), 6-4, 7-5. In other matches, Pranjalla Yadlapalli and Sharrmadaa Balu also made it to the semi-finals in contrasting styles.

There were good matches in the under-18 boys' and girls' last eight as well with D Suresh toppling BR Nikshep 6-2, 6-3. Second seed Dhruv Sunish and Nitin Sinha stayed on course.

In the Girls Under 18 second seed Humera Shaikh had to go through a tough three setter to win over Yamalapalli Sahaj 7-6,4-6,7-5. Akanksha Bhan the third seed also entered the semi –finals to be played tomorrow.
Results at 5pm:
Quarter Finals:
Men's Singles:
Vishnu Vardhan (Seed 1) bt Dalwinder Singh 6-2,6-4; Haadin Bava bt Jayesh Pungaliya 7-5,6-2; Kunal Anand bt V.M Ranjeet (Seed 3) - 5-7,6-4,6-2; Siddhartha Vishwakarma bt Tejas Chaukulkar 7-5,6-4
Women's Singles:
Riya Bhatia (Seed 1) bt Nidhi Chilumula 6-7(7),6-3,6-2; Eetee Maheta bt Mihika Yadav 6-7(5),6-4,7-5; Pranjalla Yadlapalli bt Jennifer Luikham 6-2,6-1; Sharrmadaa Balu bt Vaidehi Chaudhary 7-5,6-4
Boys' Under 18:
D Suresh bt B.R Nikshep (Seed 1) 6-2,6-3; Dhruv Sunish (Seed 2) bt Param Punj 6-3,4-6,6-3; Nitin K Sinha (Seed 3) bt Abhinav Sanjiv 7-5,6-3; Paramveer S Bajwa bt Sanket Tomar 7-5,6-3
Girls' Under 18:
Humera Shaikh (Seed 2) bt Yamalapalli Sahaj 7-6,4-6,7-5; Akanksha Bhan (Seed 3) bt Jennifer Luikham 6-4,1-6,7-6 (4); Lalita Devarakonda (Seed 6) bt Urmi Pandya 6-2,6-1; Y.S Dedeepya bt Tanisha Kashyap 6-2,6-3