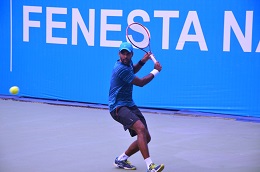 New Delhi: Top seed Vishnu Vardhan remains a force to reckon in the domestic circuit. On Tuesday, the 29-year-old-man was in the zone as he whipped Sivadeep Kosaraju 6-0, 6-3 in the Men's Singles at the Fenesta Open National Tennis championship at the DLTA centre.
The weather was overcast and humidity was within tolerable limits. Someone like Vishnu, who has played most of his tennis south of the Vindhyas, like the conditions as he played solid tennis to dismantle his opponent with minimum fuss.
Vishnu has been a regular competitor in this tournament, and liked the medium fast hard courts as he played crisp tennis to underline he can be the one to watch out this week as well.
Second seed Mohit Mayur Jayaprakash was also in comfort zone as he outhit AbhinashuBorthaku 6-4, 6-3 for a good win. Mohit turns 23 next week and the Mumbaikar who has a good forehand and double grip backhand played percentage tennis enroute to round two.
Mohit loves playing on the hard courts and his other interests include tennis. On Tuesday, he was on song as he warmed up for the tougher battles ahead in style.
Another old professional who has appeared in the Fenesta Open many times, VM Ranjeet, seeded fourth, cruised to a 6-3, 6-2 win against Rishi Reddy.
There were no upsets in top seeds of Boys under 18 & Girls under 18 category. BR Nikshep had an easy first set 6-0 against Ashutosh Tiwari but had to fight hard later with 7-6(7) score. Nitin Kumar Sinha also moved into the next round with ease 6-0,6-0. Girls Under 18 seed 1 VaidehiChaudhri beat Pratibha Prasad 6-0,6-2.
Overall, action on Tuesday was rich with competitors in the ladies singles, boys and girls under-18 also showcasing their skills.
Results at 5 pm:
Men's Singles:
Vishnu Vardhan(Seed 1)btSivadeepKosaraju 6-0 6-3 : MohitMayurJayaprakash(Seed 2)btAbhinashuBorthaku 6-4, 6-3 : VM Ranjeet(Seed 4)bt Rishi Reddy 6-3, 6-2: KunalAnand(Seed 5)btSurajPrabodh 6-2, 6-4: AnsuBhuyanbt Ankit Chopra 6-3,6-7(5),6-1: Dalwinder Singh (Seed 6) btBR Nikshep6-0,6-0: SiddharthVishwakarmabtYugal Bansal 6-4,7-5: S AbhinavSanjivbtAnvitBendre 6-2,6-2: Faisal Qamar btBhaveshGour 6-2,7-5: JayeshPungaliyabtParamPunj 6-3,6-1
Women's Singles:
EeteeMaheta (Seed 6) btAarthiMuniyan 6-2,6-3 : Pratibha P Narayan btMoulika Ram 7-6 (5),6-2
Boys' under-18:
BR Nikshep (Seed 1) btAshutosh Tiwari 6-0; 7-6 (7); DhruvSunish (Seed 2) btRaghavJaisinghani 6-1,6-2; Nitin Kumar Sinha (Seed 3) btDiveshGahlot 6-0, 6-0; TheyjoOgesbt Abhimanyu Vannemred (seed 6) 3-6, 7-3 (3) retd; P S BhawajbtSanilJagtiani (Seed 7) 6-2, 6-1; Alex Solanki (seed 8) bt N Calvin Golmei 7-6 (3), 6-7 (3), 6-3; IshaqueEqbalbtSacchittSharrma 6-1, 6-4; MritunjayBadolabt C H Arjun 6-3; 6-4; S Abhinav Sanjeev btMadwin Kamath 6-2, 6-3; Rian D Pandolebt Himanshu Mor 6-1, 6.1; Dhakshineswar Suresh bt Anurag Nenwani 6-3, 6-2; Rishab Sharda bt S K Reddy 5-7, 6-2, 6-0; Yugal Bansal btShubham Malhotra 7-6(4), 6-4; SanketTomarbtMangkiTalom 6-0, 6-3; Param Pun bt Rishi Reddy 6-4, 6-3; M SenthilkumarbtRithvikChoudary 6-3, 6-2;
Girls under18:
VaidehiChaudhari (Seed 1) btPrathiba Prasad 6-0, 6-2; Shaik Humera (Seed 2) btSmriti Singh 6-1, 6-2; Akanksha Bhan (Seed 3) bt Bhakti Bharat 6-1, 6-4; Harsha Sai (seed 4) btRashmikaRanjan 6-1, 6-4; LalitaDevarakonda (Seed 5) bt Shivani Manjanna 6-2, 6-3; Urmi Pandya bt NikhitaSimhambhatla 6-0, 6-0; R S BhamibipatybtMuskan Gupta 5-1 retd; Lasya Patnaik btAdvaitaSaravanan 6-1, 6-4; Shivani SravyabtAarushiKakkar 7-6 (4) 6-4; Jennifer LuikhambtArchitaMahalwa 6-4, 6-0; Harsha Sai (seed 5) btRashmikaRanjan 6-1, 6-4;