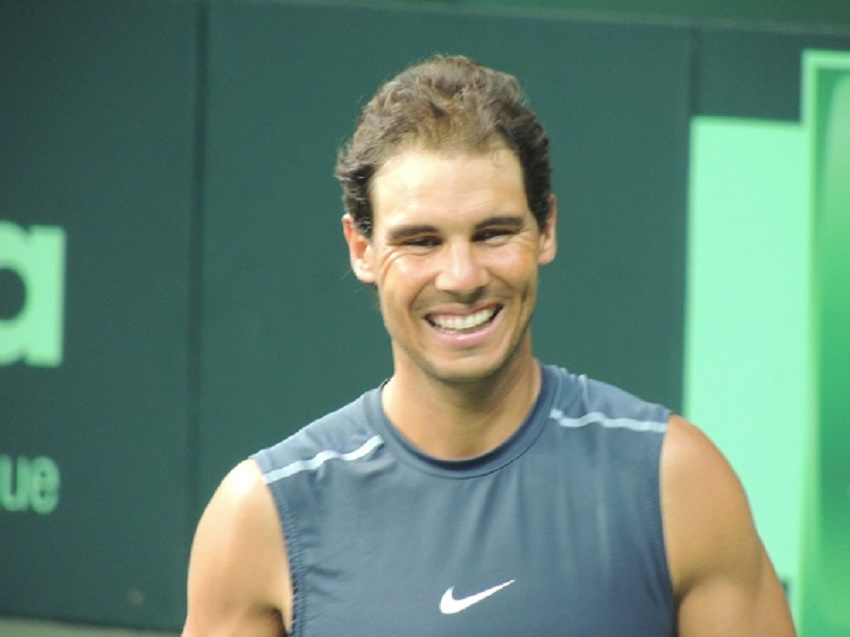 New Delhi: Spanish doubles pair Rafael Nadal and Marc Lopez beat Indian pair of Leander Paes and Saket Myneni in a closely contested match by 6-4, 6-7(2), 4-6, 4-6 in the Davis Cup World Play Off match to give Spain 3-0 lead, here at R K Khanna Stadium on Saturday.

However, showing mutual admiration for each other, Nadal was in all praise for Paes, terming him one of the best players in the history of sport, while the Indian tennis legend said Rafa was a champion and had all the abilities to play in singles and doubles at the same time.
"Leander played a great match. It was a pleasure to play against him. He is one of the biggest stars of doubles and one of the best players in the history of the sport," said the World No. 4 Spaniard, who missed out the singles match he was to play against Ramkumar Ramanathan on Friday.

Meanwhile, Leander said, "Rafa is one of the greatest players to have played the game. He hardly has any weakness in his game. Most you can do is you can make him as much uncomfortable as you can and if you succeed in that you can get some points."

Clarifying on what resulted in his no show on Day One, Nadal said, "Definitely it was the stomach problem. Everyone knows my situation. My wrist is improving and the process is positive. Yesterday after practice, I felt there was so much humidity and the conditions were very tough. Suddenly I realised that my stomach was bothering. So I dropped the idea of playing in the match."

Indian team fought hard but could not lost 1-3 against the Spaniards. Commenting on the match, Nadal said, "It was a tough encounter. Anything could have happened. But we are happy that we are back in the World Group. We played very hard."

Spanish captain Conchita Martinez said that it was a very special moment for the team. "It is great to be coaching these great players."

David Ferrer also commented on the closely contested match, saying, "Indian team played a good match. It was difficult to win this match."

Marc Lopez, who partnered Rafael Nadal in Rio Olympics said, "Rafa is a great player. The key to being partners is friendship and trust." Commenting on being targeted by the Indians, he said "Serve is a tougher part of the game. They were serving at 160 kmph and it was tough in the first two sets and later improved."

Talking about the crowd cheering for him, Nadal said that it was a fantastic moment for him. "All the experiences are good. In these countries you don't play very often. I have played here in Chennai and in Davis Cup. The fans here are passionate and supportive," said Rafa, adding, "It is an honour to play for your country. We have accomplished our goal and we are now in World Group. I do not know who will play tomorrow."

Meanwhile, talking about his partnership with Saketh, Leander said that he was really excited to play with Saketh for the first time. "Saketh is a natural court player. We were playing together for the first time. I had to play as a senior and Saketh was very receptive. I am sure if I get to play with him for six months, we can win a Grand Slam together."

Saketh, too, was in praise for Paes and said that he was happy to play alongside the legend. "Leander reads the game so well. Playing with him was a great learning experience."

Talking about the match, Leander said that they had a lot of chances in the first two sets. "We had a lot of chances in the first two sets. If we could have managed to win the first two sets, things could have been different. Rafa started playing his forehand with ease in the third set and changed the momentum of the match," said Paes.
Meanwhile, asked if he will play in the IPTL next year, Nadal said, he would be playing the IPTL but I don't know if he would be playing for India. "That you have to ask Mahesh Bhupathi."