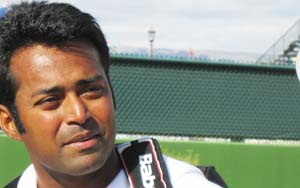 Chandigarh: Leander Paes and Rohan Bopanna had an easy day against Hong Chung and Seong Chan Hong, as they beat the Koreans 6-3, 6-4, 6-4 in Davis Cup doubles encounter, here on Saturday. With this win, India took an unassailable 3-0 lead the tie, which has helped India qualify for the World Group play-offs.
"Chemistry was great. If it wasn't good, we could not have got such convincing win. We did not push much and just made sure that we come out strong," Bopanna said at the post-match media conference.

Meanwhile, Paes said, "We have won in three sets. We are playing well. It has been a great season for us. We are sharp. Even if the competition was tough, we could have raised the level of our game."

Earlier on Friday, Saketh Myneni beat Yong-Kyu Lim 6-1, 3-6, 6-4, 3-6, 5-2 (retired), while Ramkumar Ramanathan bt Seong-Chan Hong 6-3, 2-6, 6-3, 6-5 (retired) to give India a 2-0 lead.

In a match that lasted three hours and 10 minutes, Myneni prevailed over Yong-Kyu Lim 6-1, 3-6, 6-4, 3-6, 5-2, as the latter fell to the ground in pain after cramping up.

Meanwhile, in the first match, Ramkumar shiufted gear after getting broken in the first and fifth games of the second set. Ramkumar had seven aces and nine double-faults, but converted six of 11 break-points.

In all praise for the youngsters, Paes said, "Ram came out and handled the pressure well. They did an excellent job under the conditions. The court was damp, soggy. It became a dog-fight, it was about fitness and mind. Lim is an Army man and we knew he's not going to stop until he falls down and that is exactly what happened. Overall, beating Korea 3-0 is never easy. They are a formidable force in Asia."