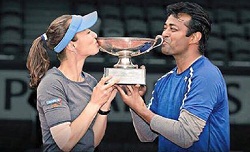 PARIS: After narrowly missing out on the chance for a Non-Calendar Year Grand Slam in women's doubles, Martina Hingis partnering Leander Paes defeated her women doubles partner Sania Mirza, the No.2 seed in the mixed doubles at French Open, and Bruno Soares to win a mixed doubles Career Slam, 4-6, 6-4, 10-8, here on Friday. "It's an amazing feeling I think any time you are part of writing a record book," Hingis told press after the match. "So it's nice to have these achievements when you look back on your career. And not only to win it, but also how to win it.
"I think it's also that we're not the youngest ones to have like 20 more chances to come back to Roland Garros and make it happen. It was always probably one of the most difficult surfaces and difficult times also given throughout the two weeks here the circumstances that didn't always help. "But I think it's the same to everybody, and you have to take the best out for you and we managed to come on top. I'm very proud of that."

Hingis and Paes captured three of the four mixed doubles majors last year, and came through the event unseeded this week to up-end Mirza and Soares - who won the 2014 US Open together - from a set down.
Paes completed his own Career Slam in mixed doubles with Friday's win.

"All of you have written about Martina Hingis the tennis player, but if you actually look at Martina Hingis the person, she's a greater champion even off the court than she is on the court," he said.