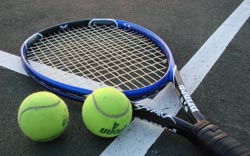 New Delhi: All India Tennis Association (AITA) congratulated, both, Junior Davis Cup team and Junior Fed Cup team which qualified for the World Group Finals to be held in Budapest Hungary, from September 27 to October 2 and announced an award of Rs 5 lakh each for both the teams.
The Asia/Oceania Final Qualifying for Junior Davis Cup (U/16 Boys) by BNP Paribas was held from 4th to 9th April in and Junior Fed Cup (Girls U/16) was held from 11th to 16th April at R K Khanna Tennis Stadium, New Delhi, India.

Adil Kalyanpur, Siddhanth J. Banthia and Megh Bhargav Kumar Patel under the captaincy of Vishal Uppal represented the boys' Team while Sathwika Sama, Mahak Jain and Shivani Swarup Ingle represented the Girls' team under the captaincy of Ankita Bhambri.

Three places are available for the Asia/Oceania Nations at the 2016 Junior Davis Cup Finals.

Similarly four places are available to Asia/Oceania nations at the 2016 Junior Fed Cup Finals.

The Indian boys qualified in style for the World Group as they outplayed Australia 2-0.

Both Siddhant Banthia and Adil Kalyanpur played very well with identical 6-2, 6-4 win over their opponents.

Similarly in Junior Fed Cup Asia/Oceania Event, Sathwika Sama and Mahak Jain tamed the second seeded Australia 2-0 in the quarterfinals. Mahak Jain won the first singles 1- 6, 6-1, 6-3 while Sathwika Sama has played a superb game in beating World No. 46 Junior Lin Baijing 4-6, 6-3, 6-4. By making it to the top four in the regional competition, the Indian girls secured one of the four berths for the World Group Final.

AITA President Anil Khanna has announced a cash award for Rs 5 lakh to both the boys' team as well as girls' team for qualifying for the World Group.
These wins will august well for the future of tennis and boost medal prospects for Future Asian Games and Olympics.