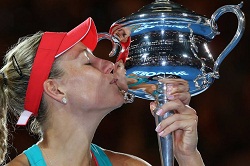 MELBOURNE: In one of the biggest upsets of the tournament, Angelique Kerber got the better of Serana Williams 6-4, 3-6, 6-4 in the final of the Australian Open on Saturday night, which gave her the first Grand Slam title.

The favourite to win the tournament, Williams -- 21-time Grand Slam champion -- was the favourite. Kerber was playing the first Grand Slam final of her career and had lost all the four meetings with Williams in straight sets. However, she proved too good in the first set, breaking Williams twice to take it, 6-4. Williams came back strong in the second, winning it, 6-3.

But Kerber built a 2-0 lead in the third set, and after Williams caught up to 2-all, Kerber raced out to a 5-2 lead. The No.1-seed won the next two games and was a point away from 5-all, but the No.7-seed finally won 6-4, 3-6, 6-4.

Kerber became the second German woman in the Open Era to win a major, after Steffi Graf, who won 22 majors in her legendary career. She'll also surge to a new career-high ranking of No.2 now, behind Williams.