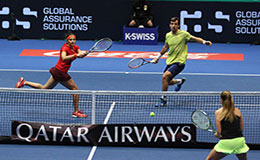 Kobe: Day 3 at Kobe started with the defending champions, Micromax Indian Aces meeting the OUE Singapore Slammers. In an evenly contested match, at the end of the 4the set, the teams were tied 2 sets each. The men's singles was the deciding rubber. Ace man, CaptainMonfilswas sitting out with a hamstring injury; the singles task was left to Dodig to match every power stroke that Kyrgios hit across the court. Finally, the Aces prevailed, winning the set 6-3 and match 27-22 over the Slammers.
Match Summary:
-Coach Purav Raja won the toss for the Slammers and elected to serve
-First up was a classic encounter with 2 legends of the game in action – Magician Santoro and Machine Moya. In a thrilling encounter that reached 5 games all, at 6-6 in the 6th game, it was Moya's winning stroke that won it for the Slammers
-Next up in the women's singles, Pliskova winning 6-4 against Stosur, put the Slammers up 2 sets
-Bopanna / Dodig were quick to get started in the men's doubles. Their clever shot-making clearly over-powering Melo/Brown, with the Aces winning the set 6-4
-Staying on the court with Mirza, Bopanna won it yet again for the Aces against Bencic/Melo, winning the mixed doubles for the Aces 6-3
-The men's singles saw plenty of lobs and leaps with Kyrgios determined not to let any shot pass him through. Monfils though not on the court, was supporting his team on the bench. At 5-3 up, during a timeout, Monfils was seen encouraging Dodig's brilliant stroke-play calling him the 'MVP' of the match. In return, Dodig won the set and match 6-3!
What the Players said:
Carlos Moya: "It was a great match. Once I broke him, it was easy to get my rhythm back. Frankly the match could go either way. I think the IPTL is a great concept, and a great competition. For us legends it's great because we don't get to see such huge crowds support us anymore. For the active men's & women's players, the team competition is great, and its good training in the off season. I talk to a lot of them, and they all love it!"
Fabrice Santoro: "It was great to win the match today, make it two in a row. The team is in good spirit, we love the bonding, next 3 weeks we will be together, eat together, train together, and we enjoy it. It's a great competition. I don't usually play tennis now, but before the IPTL I made sure to practise to be match fit and match ready."
Match Scores:

Day 3 | 4th Dec'15

Match 5 | 4pm

Home Team

SCORE (GAMES)

Away Team

OUE Singapore Slammers

Coach: Purav Raja

22

27

Micromax Indian Aces

Coach: Fabrice Santoro

(M) LEGENDS SINGLES

Carlos Moya

6

5

Fabrice Santoro

WOMEN'S SINGLES

KarolínaPlíšková

6

4

Samantha Stosur

MEN'S DOUBLES

4

6

Dodig / Bopanna

MIXED DOUBLES

Bencic / Melo

3

6

Mirza / Bopanna

MEN'S SINGLES

Nick Kyrgios

3

6

Ivan Dodig