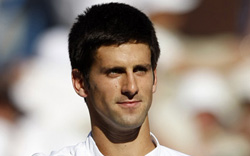 For tennis fans, 2015 belonged to only one player and he is Novak Djokovic. ATP players were aware of a stupendous wave in Nole, but none expected a tsunami. The Nole tsunami amassed almost all titles on its way. Remaining had a narrow escape and got to the hands of some smaller waves.

Since Roger Federer's 2006 when he had 92-5 record with 12 titles, this has been the most dominated year in tennis. Consummate Djokovic started year on low with quarter final defeat to Karlovic at Qatar. Since then it was only uphill ride for him. In every tournament he stepped in after that he finished on the presentation stage, with 10 titles and four runner-ups. These instances occur once in a blue moon. Though Roger had 12-4 final record, he grabbed only four masters to six by Nole. Both won have 3-1 in major finals. The whooping 16500+ points showed how dominant he had been.
He won Australian Open followed by runners-up finish to Roger in Dubai .Then it was four big fish in a single net. Four Masters title on road to French Open, where he finished as the second best to Stan. He then defeated Roger against the crowd for the Wimbledon title.
After losing to Murray and Roger in finals of Montreal and Cincinnati, respectively, he grabbed four straight titles from US Open to the Paris Masters. In the whole year, he lost only to four players and Roger was the only one to defeat him twice. Roger on other hand lost only to two in 2006 -- Rafa and Murray. But fact that he lost four times to Rafa brings the concept of 'Complete Dominance' down. Murray was Nole's big victim with six losses. He goes to O2 arena as the defending champion and a clear favourite.
With Olympics to add flavour next year, only time knows who is going to taste success next year. Until then let's take our allotted lounges.