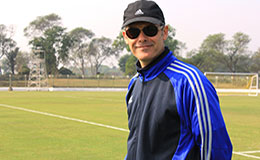 In an exclusive interview, the-aiff catches up with AIFF Technical Director Scott O'Donell on relevant issues concerning Youth Development in the Country.

EXCERPTS:

It's been four years that All India Football Federation took the initiative to launch the AIFF Academy Programme. How has the journey been so far?
It hasn't always been easy but we (AIFF) have done what we have been able to do within our limited resources. I was at an AFC Youth Conference this week, and while we are not up there with the likes of Japan or, Korea, I think we can be proud of what we have done in terms of our Residential Academies.
Could you elaborate?
There are not many Countries in Asia who have Residential Academies for their respective Youth Teams like we do. It has been a Team effort, starting from Mr. Praful Patel to Mr. Kushal Das and down to our staff at the Academy.

Take us down a trip down memory lane – how did it kick-off?
It all started when I received an E-mail from Jean-Michel Benezet, the then FIFA Technical Director. He asked me if I was interested in going to India to help set up an Academy Programme. I jumped at the chance. And with FIFA's support, I moved to India to work with Kushal (Das) and Rob Baan to set up the Academies.

The first Academy was set up in Mumbai, at Father Agnel School in Vashi. That is where it all started. Since then we set up Academies in Kolkata, Bangalore and two in Goa.

We have given our young Players the opportunity to experience the opportunity to live and breathe Football on a full-time basis. AIFF has provided coaching, board and accommodation as well as education for all of our Players.

We have also provided opportunities for our young Coaches, Physios and Team Managers to be employed full-time in Football.

There must have been roadblocks. What were they? Do they still persist?
Yes there has been -- it hasn't been all smooth sailing. We have had issues with venues for our Academies because we do not have our own National Training Centre. As a result we have had to search for suitable venues across the Country. The lack of suitable infrastructure is a big problem but I am hoping with the hosting of the FIFA U17 World Cup, at least one legacy will be the improvement in playing and training facilities.

Age cheating has been another big issue for us but we seem to have that nearly sorted by conducting MRI tests on all Players who enter our Academy Programme.

Anything else?
Another issue for us has been the lack of competitive Football for our Academy Players. While it is important to train and play friendly games, playing competitive Football is also a big part of the Player's development.

For example we had some Players who recently played in the AFC U-16 Qualifiers, who played their first game of competitive Football in Iran. It has been the same in previous years. It is still not solved but we are working on the U15 and U18 National Leagues, which we hope will at least give many more youngsters the opportunity to play in competitive Football.
By Nilanjan Datta,
AIFF Media Team